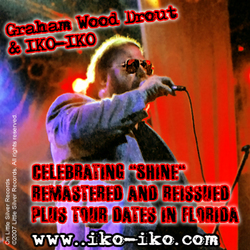 Soul-filling ideas that flow out of [Drout's] writing pen and into the heart of the listener...the result is breathtaking.
Jupiter, FL/Miami, FL (PRWEB) November 26, 2007
The original creators of the progressive Blues/Rock/Groove sound known as Swampadelic, Graham Wood Drout & Iko Iko, have announced tour dates in support of the reissue of their critically acclaimed, "Shine" (Little Silver Records). The reissue received 9 out of 10 stars from Blues Revue magazine who calls the band, "an American original…"
Shine was originally released in 2000 and features performances by Ron Dziubla, Stewart Jean, Michael Mennell, Doug Leibinger, Nicole Yarling, and the late Larry Williams as well as production credits for Jerry Hall who's work includes releases from James Harman, Ian Whitcomb, Earl Klugh, Bernadette Peters, Lynwood Slim and others. A more traditional flavored release, the remastered Shine includes Drout's songs Teasing the Trains (recently covered by Blues artist, Albert Castiglia), Pet De Kat, Spy Boy and Riding on The Rims. Iko Iko's Shine, and other releases, are available on iTunes, Rhapsody, Amazon.com, MusicMatch and via Little Silver Records online at http://www.littlesilver.com.
Iko Iko Tour Dates include:
November 30, 2007: Coral Gables Blues Festival, Coral Gables, FL (6:00pm)


December 1, 2007: Ace's Lounge, Bradenton, FL 



December 15, 2007: O'Hara's on Las Olas, Fort Lauderdale, FL

December 28, 2007: The Bamboo Room, Lake Worth, FL (Tickets on sale now)
http://www.bambooroomblues.com/


December 31, 2007: New Year's Eve, Bayfront Park, Miami, FL


February 21, 2008: Clematis By Night, West Palm Beach, FL
 


March 2, 2008: 43rd Annual Fort Lauderdale Billfish Tournament, Fort Lauderdale, FL 


April 19, 2008: 35th Anniversary Festival - Center for Environmental Studies, Stuart, FL
July 25, 2008: Sunrise Civic Center Theater, Sunrise, FL


Complete tour date listings for all cities are available at http://www.iko-iko.com or http://www.pollstar.com
About Iko-Iko:
Highlighting his more than 25-year career, Graham Wood Drout and Iko-Iko's work has received Song of The Year honors from The Blues Critics Choice Awards for The Ghosts of Mississippi, that appeared on his acoustic own CD with Albert Castiglia, The Bittersweet Sessions as well as releases by Albert Castiglia and Joey Gilmore that won both of those artists accolades as well.
With an international fan base referring to themselves as The Voodoo Crew, five releases and thousands of shows behind them, Iko-Iko continues to make history as one of the most successful independent artists today.
Graham Wood Drout and Iko Iko was awarded Best Blues Band and Songwriter of the Year from New Times Magazine and a Jammy Award for Best Blues Band. The band has performed with music legends of all styles including Bo Diddley, Jimmy Buffett, Ron Wood, Ivan Neville and many others.
Press Quotes:
"Soul-filling ideas that flow out of [Drout's] writing pen and into the heart of the listener...the result is breathtaking." -Blues Revue Magazine

"Energy and enthusiasm in abundance...stellar disc!"
- Relix Magazine
"An outright success of musicianship, writing talents, strong voices and images as dark as a New Orleans graveyard at midnight." - Delta Snake Daily Blues
"An explosion of raw blues-rock-a-billy that'll rattle your teeth and put the boogie in your bones." - Blues On Stage

With top ten songs on XM, Sirius, MusiChoice, AAA, Hot AC, and Internet radio around the world, Iko-Iko continues to draw fans to their electrifying live shows. Artists of all genres cover Drout's songs and Living Blues has The Bittersweet Sessions in the top 20 CDs of the year. Drout had the #1 song on MusicChoice with The Ghosts of Mississippi, and #2 on the Contemporary Blues Radio charts with Big Toe - both were performed by Albert Castiglia on his release, A Stone's Throw, that tied for second place as 2006 Blues CD of the Year on Sirius Radio networks.
Today, the band is more energetic, vibrant and musical than ever with live shows that include Drout on lead vocals and guitar, Good Rockin' Johnny Wenzel on lead guitar, Mitch Mestel on bass and vocals, and Daniel East on drums and vocals.
Graham Wood Drout & Iko-Iko perform using RhythmTech Percussion, Knuckhead Strings, Hornets Drumsticks, Future Sonics Ear Monitors (R) brand, Audix Microphones, Hear Technologies Personal Monitoring Systems, MTD Bass Guitars, Sennheiser Evolution (R) Wireless Systems and Stage Ninja Staging Products.

For complete appearance and press information:

MAIN WEBSITE: http://www.iko-iko.com


EPK: http://www.sonicbids.com/ikoiko



MySpace Friends: http://www.myspace.com/voodoocrew


###