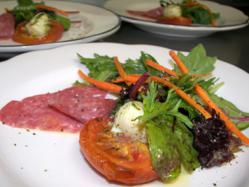 It's about reclaiming our health, building and supporting our community, and teaching the public to transform their thinking about food and cooking for a healthier tomorrow.
Milwaukee, WI (PRWEB) September 06, 2012
From farmers to energy experts, corporate executives to local chefs, the second National-International Urban and Small Farm Conference goal is to provide guidance on how to plan, develop and grow small farms in urban and rural areas. Chef Michael Feker, of IL MITO Trattoria e Enoteca, reveals the Chef's role in the food chain and the importance of pure ingredients at his cooking demonstration and tasting at the Chef's Reception on Saturday, September 8 from 5:30 to 9pm. Feker explains, "It's about reclaiming our health, building and supporting our community, and teaching the public to transform their thinking about food and cooking for a healthier tomorrow." With an estimated 3,000 attendees, this innovative event, hosted at the Wisconsin State Fair Grounds, is geared towards integrating access and knowledge of healthy foods.
Will Allen, founder of Growing Power explains "it is our mission to support people from diverse backgrounds, and the environments in which they live, by helping to provide equal access to healthy high-quality, safe and affordable food for people in all communities… a good food revolution." This mission directly correlates with Chef Feker's passion for bringing healthy food and amazing flavors to all of those he can reach. Feker's featured dish for the evening, penne pasta with garden vegetable ragu, incorporates Growing Power arugula, spinach, red tomatoes, black cherry tomatoes, onions, bell peppers, corn, eggplant, carrots and fresh herbs. Event attendees will indulge with unparalleled "Fekerized" flavors as Feker teaches them basic culinary principles to get them back to the kitchen and cooking again.
"When you live in Wisconsin, or other northern states, you are faced with limited fresh, local ingredients through the winter months. This good food revolution is all about making fresh ingredients readily available no matter what the season or climate, or your economic status," shares Feker. "With flavor as a backbone, you can take any range of ingredients and use them in diverse ways. For example, in the fall and winter slow cooking your ingredients not only deepens their flavors becoming so rich its like a burst of spring on the snowiest day, it also fills your home with heartwarming aromas," explains Feker.
about chef feker
Michael Feker is an accomplished chef with over 20 years of culinary experience, having studied abroad in Switzerland. He learned under the tutelage of renowned chef Roberto Gerometta and has owned restaurants in Los Angeles, Milwaukee and currently in Wauwatosa. He specializes in traditional Italian/Mediterranean cuisine at his restaurant, IL MITO Trattoria e Enoteca and is also a culinary instructor, owning and operating CMFs Culinary School of Magic. With his vast knowledge of the chemistry of foods of all cuisines, classical French training, along with world travels and experience, chef Feker is a culinary innovator who strives to get his guests back to the basics and back to the kitchen cooking again.
about il mito
IL MITO Trattoria e Enoteca is an award-winning Italian restaurant and wine bar located on the East side of Wauwatosa, Wis. The restaurant opened in 2006 and has become one of the region's most popular Italian eateries. The restaurant's owner and chef, Michael Feker, established IL MITO as a destination for simple yet robust Italian that's affordable. The menu features everything from homemade pastas and salads to signature soups, breads, cheeses and pizza, including homemade, gluten-free options. Chef Feker and his team also offer full service Catering.