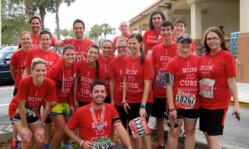 "Hearing people's passion to cure neuroblastoma means the world to us. The funds we raise support incredible research, from the leading scientists, physicians, and researchers in the field." - Kyle Matthews www.BecauseOfEzra.org
Tampa, FL (PRWEB) February 28, 2013
Image Forward continues it's local charity support by sponsoring runners in one of Florida's longest races. Benefits aid research of neuroblastoma. Ezra was diagnosed with stage 4 neuroblastoma on October 4th, 2009 at the age of 13 months. On October 6th the Matthews' found out they were pregnant again. After weeks in the hospital and an initial round of chemo, in early November they were able to do their first ultrasound and already see Robyn was pregnant with twins. As the months progressed, Ezra went through 6 rounds of chemo, various treatments, and moving towards having the main tumor (above his left kidney) removed.
On March 1st, Robyn and Kyle went to her dr for her scheduled pregnancy checkup, and the dr told them she was 1-2 cm dilated. Her due date was July 21st - this was nearly 4 months early. Robyn was taken straight to the hospital where she was on bed rest for 2 weeks, but the twins weren't waiting. On March 15th, at 26 weeks (3 1/2 months early) their twins Price and Charley were born. Price was 1lb 13oz, and Charley was 1lb 15oz. They both had multiple heavy complications, including level 4 bleeds in the brain, and on March 22nd, the twins' 1 week birthday, Price died.
Charley was still critical, and had many of the same issues as Price. He was rushed to All Children's hospital in St Pete, who had better drs to handle the brain trauma. He received multiple surgeries, including having a shunt put in his brain, then removed as it wasn't working correct, a new shunt put in, then another surgery to move that shunt. It's now working great and will remain with him for life. He also had heart surgery to fix a murmur, which went well. Charley is now home! He has a G tube in as he can't yet take a bottle. There are temporary issues which will fade with time, and before long he should be just like any other kid. 2 weeks after Price died, on April Fools Day, 2010, Ezra had his neuroblastoma tumor successfully removed. His left kidney was fully involved with the tumor, and was also removed. He recovered well, and they spent the entire month of June living in a hospital for stem cell transplant for Ezra - in an isolated, HEPA filtered room. Charley was in the same hospital, only 1 floor away, so they were able to visit him often, although Ezra wasn't allowed to leave the room the entire 30 days.
The day before Ezra's 2nd birthday the Matthews family discovered he'd relapsed already, less than 4 months out of stem cell transplant. This meant his neuroblastoma was very aggressive, and there was no current cure. They were slated to start a trial using a drug called Nifurtimox, but Ezra's condition began deteriorating rapidly, and he was unable to qualify for the trial - literally less than an hour before he was about to get the first pill.
On November 8th, at 2:50AM, Ezra passed on. The neuroblastoma had kept growing, and although they did one last round of chemo in Orlando, it didn't stop, and early on Monday morning Kyle and Robyn lay in his bed with him and held him as he died.
Image Forward's Director of Charitable Giving Amy Huth, recalls meeting the Matthews Family over 2 years ago at Grace Family Church. "I remember the whole church community was in prayer over Ezra's health, as well as Kyle and Robyn and the twins she was carrying. My heart ached for this family, I am glad we connected with them and were able to support their cause."
The vision "Because of Ezra" has is simple; to share the fight against childhood cancer is battled in many ways - by sharing the stories, organizing events, direct giving... everyone can do something.
Contact
Kyle and Robyn Matthews
Contact: 813-454-9113
Website: http://becauseofezra.org/blog/
About Image Forward
Image Forward, a digital marketing agency, helps our clients to drive revenue by leveraging and building audience engagement through the use of proprietary tools including a high recognition local SEO directory system (if-Places) containing over 105,000 local business listings & automated social content distribution system (if-Social). The company provides turnkey Internet Presence Management Solutions to improve brand visibility by establishing a local search presence & publishing high value content to social portals.
Internet Presence Management website: http://www.ImageForward.com