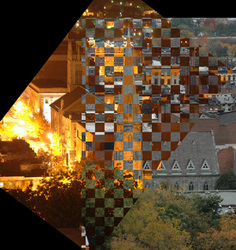 has been very well received.
Clifton Park, NY (PRWEB) July 14, 2009
The development of novel image registration and recognition software, i2k Align, by DualAlign LLC is promising to become the foundation for future innovations in medical, satellite and defense imaging applications. The novel software, which comes packaged with an API for custom software development, is fully automatic and very robust. i2k Align is helping professionals automatically register and stitch images even if the originals were taken from different camera systems, of varying scale, in different modalities, at different distances, with physical changes, or little overlap.
"i2k Align is the most sophisticated software package in the world for registering and aligning two-dimensional images and for constructing multi-image montages," says Dr. Charles Stewart, DualAlign LLC's CSO.
Applications to this technology are already found in markets as varied as medicine, defense, satellite, energy, biometrics, security, and photography. One such application in medical imaging enables a doctor to align retinal images to detect glaucoma in a patient, while a certain photographic application allows a photographer to take multiple photos of the Golden Gate Bridge in San Francisco and convert it into one file for viewing.
According to Remy Arteaga, DualAlign's CEO, the software "has been very well received." Mr. Arteaga goes on to say that "Textron Inc., SET Corporation and National Institute of Health have all purchased advanced copies of the software and are very impressed with the API for custom applications. There are numerous Retinal Imaging firms that have contacted us about licensing our software including Topcon Corporation and we have two deals underway."
At the core of the i2k Align technology is the powerful, new i2align image registration algorithm, which both decides whether or not two images overlap and computes the inter-image transformation (pixel location mapping function). Hence it is both a registration and recognition algorithm.
DualAlign provides image registration and recognition software that can enhance digital imaging systems. Four different software packages are available with i2k Align including Windows (XP and Vista) and Mac (OS X 10.4 and 10.5). Each software package comes with an API for custom software development.
About DualAlign LLC
World recognized computer vision expert, Dr. Chuck Stewart founded DualAlign LLC in 2007 to enable professionals, firms and consumers to make better decisions through image intelligence solutions. DualAlign's patented image intelligence technologies enable its customers to harness the power of imagery, helping businesses and government organizations gain a competitive edge in the marketplace by performing functions that would otherwise be unattainable; accelerating organic growth; shortening time to market & profitability; developing new business areas; lowering risks & costs; and improving efficiency. Visit http://www.i2align.com for more information.
To learn more or to schedule an interview with Remy Arteaga, please call 877-595-7181.
# # #