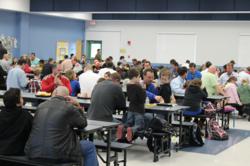 All Pro Dad's Day is a once a month breakfast meeting and opportunity to help instill positive values in a child's life. - Michael Huth, CEO.
Odessa, Florida (PRWEB) March 31, 2013
Michael Huth and his family share an opportunity to reflect on their recent All Pro Dads meeting with hopes that it will encourage others to donate and attend to this charity that works to build stronger family bonds and instill positive values in children in local chapters across the US.
All Pro Dads is a great charity to support. They have a sports theme and Tony Dungy as an ambassador, it really is an easy way to get closer to your son, and spend some one on one time in an nurturing environment that really helps encourage youth to make positive long term goals in their lives.
After attending and making a charitable donation at the Odessa All Pro Chapter Meeting with his son earlier this month, Michael Huth's wife Amy, the Image Forward Director of Charitable giving for the internet presence management company was able to ask a few questions to Team Captain Ross Johnson.
Amy Huth, "How did you first get involved with APD?" Ross Johnson in response, "I first came into contact with APD about six years ago. My oldest son was in 4th grade when we first moved to the area and was attending another elementary school (Oakstead Elementary) at the time. He brought home a flyer for an All Pro Dad breakfast event that was being held at his school. So, we decided to go and it was a great experience. After a few times of attending the monthly breakfast, I decided I really liked the program and approached the school's team captain (Carlos) to see if there was anyway I could get involved or help out. There was some opportunities for me to help set up and even speak to share my story of growing up."
Huth asks Ross "what part of APD has changed or inspired you and/ or your child?" Ross continues, "Working as the team captain for the Odessa team has been great. I guess the thing that inspires me the most is seeing dads, who I know are extremely busy, taking time out of their morning and spending time with their kids. Eating a school breakfast, talking, and laughing. It is amazing to see the kid's light up. It not only inspires me, but it challenges me. If these dad's can make time, so can I. There are no excuses except the ones I choose to make."
In conclusion Amy Huth states, "If you're a father and want to help make an impact in your community and your child's life, support, attend or consider becoming an All Pro Dad volunteer, 'Team Captain', making a donation or simply attending an event."
About All Pro Dads
All Pro Dad's Day is a simple idea with a profound impact. It's a one-hour monthly breakfast held before school where fathers and their children meet with other dads and kids in the school cafeteria or a local restaurant. During this time, they discuss a wide range of family topics, spend time together, create fun memories, and are equipped with resources to strengthen their relationship.
http://www.AllProDad.com
https://www.facebook.com/AllProDad
About Image Forward
Image Forward, a digital marketing agency, helps our clients to drive revenue by leveraging and building audience engagement through the use of proprietary tools including a high recognition local SEO directory system (if-Places) containing over 105,000 local business listings & automated social content distribution system (if-Social). The company provides turnkey Internet Presence Management Solutions to improve brand visibility by establishing a local search presence & publishing high value content to social portals.
http://www.ImageForward.com