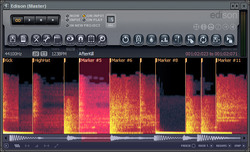 Edison will change forever the way you think about editing and recording audio
(PRWEB) December 19, 2008
Sint-Martens-Latem, Belgium (PRWEB) December 18, 2008 -- Image Line Software, the developer of FL Studio, has announced that Edison has matured into a fully featured sample editing and recording tool, deserving of a unique position in the Image Line Software catalog. Edison is now available in VST and a new standalone version (in addition to the native FL Studio plugin format). Image Line has announced the program is no longer part of the 'Juice Pack' plugin suite, and will be sold separately.
"Edison will change forever the way you think about editing and recording audio" noted its developer and Chief Software Architect at Image Line Software Didier Dambrin.
Edison loads into any mixer track (VST effects slot) and then can record or play audio from that position. Users will be excited to learn that it is possible to load as many instances of Edison as their host can contain. Parallel or chained instances of Edison are all possible.
The easy to use interface has more than enough features to satisfy even the most demanding customers. For example -
Reverb Connoisseurs will delight in the Convolution Reverb effect. This allows Edison to 'borrow' impulses from very expensive hardware or real spaces to create an identical reverberation as the original space or hardware (with the particular settings used).
Sound designers lose themselves in the Blur Tool that can literally smear any sound into a lush, spacious and ethereal pad.
For those who demand precision, the Equalize Tool will be a revelation. The user defined envelope can be precisely shaped and then applied to the waveform, tweaked and reapplied until any EQ goal is achieved.
Experimental musicians will have a blast with the pristine quality Time Stretch / Pitch Shift Tool that allows the pitch and formant of the sample can be altered independently.
Beat-makers and sample creators will save hours of work with the Loop Tuner that can loop the unloopable, removing clicks, pops and beating along the way.
Key Edison features:

Optimized for sampler content (supporting sampler region/s & seamless looping).
Drumloop slicing (auto-slicing & slice manipulation)
Quick drag&drop support (between instances or to your sequencer/other plugins)
Variable recording mode (start/stop with host, on audio input, can also work as transparent audio logger)
Time manipulation (time stretching/pitch shifting, scratching)
Effects processing (convolution reverb, blur, linear-phase equalization, etc.)
High-quality resampling for pristine sample rate conversion and pitch shifting
Detailed spectral analysis display mode
Click-free editing
Full undo history
Intuitive editing with key-feature tool-buttons
(Pascal) scripted manipulation of waveforms
Control surface support (FL Studio 8 version)
System requirements:
Operating System: Windows XP/Vista
Processor: Minimum 2GHz AMD or Intel Pentium III compatible with full SSE1 support
RAM: 512 MB
Hard disk space: 130 MB
Plugin formats:
Standalone
FL Studio plugin
VSTi 2.4 (Win)
Price and availability:
Edison can be ordered from the Image Line Web Shop for US $ 99.
Demo:
Download a fully functional free trial version of the audio editor Edison and try it.
About Image Line Software:
Established in 1994, Image Line Software provides high quality music applications to the computer-based music community and is well known for its leading digital audio workstation FL Studio (formerly FruityLoops), high quality synthesizers including Sytrus, PoiZone,Toxic Biohazard, Morphine and Ogun, a mix of innovative Effect plugins like Maximus and Hardcore and range of sample libraries used in their multi-sampler plugins DirectWave and Soundfont Player. In May 2007 Image Line Software released its acclaimed DJ mixing software application Deckadance. In addition to its audio software, Image Line Software develops and distributes the web site building application, EZGenerator.
For more information, please contact:
Maya Boycheva, PR Manager
Image Line Software
E-mail: pr(at)image-line.com
###