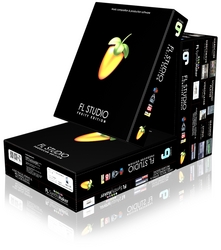 With more than 10 years history, the award winning digital audio workstation, previously known as FruityLoops, is delivering more added value than ever, ready to be exploited for its music production capabilities
(PRWEB) September 9, 2009
Sint-Martens-Latem, Belgium Image Line Software, leading developer of audio production software, introduces the 9th version of its music creation & production program, FL Studio, on the symbolic date 9th of September, 2009.
"With more than 10 years history, the award winning digital audio workstation, previously known as FruityLoops, is delivering more added value than ever, ready to be exploited for its music production capabilities," says Didier Dambrin, Chief Software Architect of FL Studio.
FL Studio 9 includes 25 software instruments covering acoustic/synthetic bass, electric guitar and plucked string simulation, sampler tools including piano, general sample playback, beat-slicing, and a range of synthesis techniques (subtractive, modeling, FM, granular and additive).
The new version of the product can record up to 99 simultaneous tracks of audio through the updated 105 channel mixer. The Playlist workspace can contain an unlimited number of audio tracks and allows the user to arrange discrete audio events in any order or position the creative process dictates with complete flexibility. Audio tools enable time-stretching, pitch-shifting, beat-slicing, chopping, edits and creative destruction of audio.
FL Studio 9 carries forward everything that is included in FL Studio 8 plus:

350 additions, changes & bug fixes
5 extra synthesizers are now included by default: SimSynth Live, DrumSynth Live, DX-10, WASP and WASP XT in each FL Studio edition (Fruity edition or higher)
Revised Playlist with integrated 'Play' button, new Clip Track features incl. track naming, muting, clip grouping and icons
Mixer insert tracks 99 (previously 64) with new 'Sidechaining' function
Piano roll 'Riff Machine' automated sequence generator tool and 'note grouping' feature
Step sequencer & Playlist now have an integrated Play button for improved workflow
Multiple controller support, independent instrument channels can be simultaneously played by separate controllers
Volatile links allow hardware control of last touched GUI object. Improved linking options and functions.
Multi-Core CPU improved multithreaded generator & multithreaded effects processing. Unleash the power of the latest generation multi-core processors.
Revised plugins include Fruity Limiter with sidechaining, Wavecandy new mastering meter modes Fruity Reeverb 2 Mid/Side processing. Edison & Slicex new export regions and noise reduction function.
Loop recording Audio Clips are now muted instead of the associated Channel for improved workflow.
Wrapper completely revised for improved compatibility inc., multi-input/output plugins & 'aligned tick lengths'.
New plugins released with FL Studio 9:
Autogun - (free) is based on Ogun and offers more than four billion presets and produces exceptionally rich metallic and shimmering timbres
Vocodex (free with FL Studio Producer Edition) - last word in vocoders, featuring automatic speech-enhancement functions, an integrated Carrier synthesizer, output maximization and up to 100 variable-width multi-parameter vocoder bands.
Stereo Shaper - (free) a multi-purpose stereo shaping tool
Gross Beat (demo) - real-time, audio-stream playback, pitch, position and volume manipulation effect
Ogun (demo) - Additive metal simulation synthesizer that can generate more than 32,000 harmonics, modulated by high-level 'harmonic mapping' functions, that hand tonal control directly to the user
FL Studio 9 is available for purchase online via download or in boxed form through traditional music & software outlets. All downloadable versions will come with lifetime free updates included in the price. For those who prefer to purchase the boxed version, Image-Line is including a Virtual Cash Card in the box that customers can use to register online and to receive 49 USD virtual cash. The money can be spent on lifetime Free Updates or put toward any other Image Line Software download-products.
FL Studio Editions and prices:
FL Studio Express Edition (49 USD, download only)
FL Studio Fruity Edition (99 USD download / 139 USD boxed)
FL Studio Producer Edition (199 USD download / 269 USD boxed)
FL Studio Signature Edition (299 USD download / 399 USD boxed) - Provides all features of FL Studio Producer edition + Maximus maximizer, Sytrus synthesizer, Hardcore Guitar effects suite and Directwave Sampler
Note: FL Studio XXL Edition Bundle has been discontinued and has now been replaced by this FL Studio Signature Edition Bundle
Product images, box shots, brochures and additional press materials for FL Studio 9 reviews or articles can be found here.
A free Trial version of FL Studio 9 (allowing export to high res WAV/MP3 and saving to FL project format) is also available for download.
About FL Studio:
FL Studio is a fully featured, open-architecture music creation and production environment for PC & Intel Macs running Bootcamp. No extra software is required to produce any style of music, as the complete set of instruments and studio tools is included in the package. The user can easily create songs, backing tracks, loops and sizzling beats. Completed songs can be saved to WAV, MP3, MIDI, .ZIP or native project formats (.FLP).
About Image Line Software:
Established in 1994, Image Line Software provides high quality music applications to the computer-based music community and is well known for its leading digital audio workstation FL Studio (formerly FruityLoops), high quality synthesizers including Sytrus, PoiZone,Toxic Biohazard, Morphine, Ogun and Sawer, a mix of innovative Effect plugins like Maximus and Hardcore and range of sample libraries used in their multi-sampler plugins DirectWave and Soundfont Player. In May 2007 Image Line Software released its acclaimed DJ mixing software application Deckadance. In addition to its audio software, Image Line Software develops and distributes the web site building application, EZGenerator.
For more information, please contact:
Asya Georgieva, PR Manager
Image Line Software
E-mail: pr(at)image-line(dot)com
Press Page - Image Line Software
###