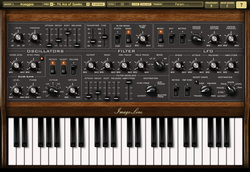 (PRWEB) March 3, 2009
Sint-Martens-Latem, Belgium Image Line Software, the developer of FL Studio, has released Sawer, its latest software synthesizer plugin. Sawer is a powerful vintage modeling synthesizer that cuts through the mix with precise articulation and a punchy sound.
Sawer's filters have been modeled on the rare 1980s 'Soviet era' analog synthesizer, Polivoks. Meticulous attention has been paid to Sawer's filter and envelope design, ensuring a unique sonic character, reminiscent of the Polivoks hardware.
Just as the random variability of electrical components makes analog hardware unique, Sawer's oscillator design has also been touched by the magic of chance:
"While programming the SAW oscillator, I accidentally set some incorrect variables and immediately the sound gained bass, acquired some light but pleasing noise on the attack and an overall richer sonic spectra. Immediately I realized this was no mistake but a discovery and built on this sound, adding some frequency modulation to give it a touch of analog authenticity and so Sawer was born" explains Maxx Claster, Sawer's chief developer at Image Line Software.
As modulation is critical for achieving authentic analog sounds, Sawer has flexible modulation routing. An Envelope and LFO (Low Frequency Oscillator) source can be used to control a large number of destination controls. Further, the MIDI Modulation Matrix provides the ability to route MIDI controllers to most targets in Sawer.
Finally, Sawer includes Chorus, Phaser, Delay and Reverb effects for an overall impressive and polished sound.
Key features of Sawer:

Main oscillator for subtractive synthesis: SAW shape with Sync frequency.
Sub oscillator (-2 to +2 octaves) with level, phase & detune controls.
1 NOISE Oscillator.
Variable polyphony (1 to 24 voices).
8 voice UNISON with user-adjustable stereo panning, detune and 'Octaver'.
SYNC & RING frequency modulation.
2 ADSR envelope generators (one user-assignable to modulation parameters).
4 FILTER modes - low pass (24 & 12 dB/Oct), band pass and high pass.
Chorus, Phaser, Delay & Reverb effects.
Muti-mode Arpeggiator.
Price and Availability:
Sawer is available in FL Studio and VSTi formats for Windows and Mac, as well as a Standalone and Audiounit version. Sawer is available for the introductory price of US $79 until the end of March. After this period, the regular price of Sawer will be US $99.
System requirements:
Operating System: Windows XP, Vista/ Mac
Processor: Minimum 2GHz AMD or Intel Pentium III compatible with full SSE support or G4 PowerPC (Mac) with full Altivec support
RAM: 512 MB
Hard disk space: 130 MB
More information about Sawer, including audio demos, screenshots and a downloadable free trial version are available at Sawer's Web Site.
About Image Line Software:
Established in 1994, Image Line Software provides high quality music applications to the computer-based music community and is well known for its leading digital audio workstation FL Studio (formerly FruityLoops), high quality synthesizers including Sytrus, PoiZone,Toxic Biohazard, Morphine and Ogun, a mix of innovative Effect plugins like Maximus, Hardcore and GrossBeat and range of sample libraries used in their multi-sampler plugins DirectWave and Soundfont Player. In May 2007 Image Line Software released its acclaimed DJ mixing software application Deckadance. In addition to its audio software, Image Line Software develops and distributes the web site building application, EZGenerator.
For more information, please contact:
Maya Boycheva, PR Manager
Image Line Software
E-mail: press(at)image-line.com
###