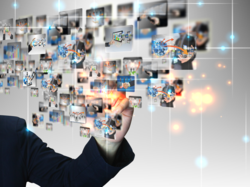 St. Charles, Illinois (PRWEB) March 20, 2013
Chicago area-based mobile app developer I'm In Marketer has announced a new promotion geared towards business owners who have an interest in growing their sales with their own customized and branded mobile app. The contest is running through April 30, 2013, and is being offered through the company's Facebook page at http://goo.gl/13RWk.
The prize is valued at about $1600, based on the I'm In Marketer's top-of-the-line "Enterprise" package, initial set-up and customization along with a six-month service subscription that offers unlimited use of the most popular app features.
One of the features that local business owners will appreciate is push notifications, which allows a business to reach its list of app-using customers instantly with a pop up message. According to company co-founder Michael Vitale, "Push notifications are proving to be one of the most effective ways to reach customers with last minute specials, invitations or announcements. According to market research, these messages are read at a much higher rate than email, and within a shorter time period."
Other standard app features include "check-in offers" that can provide special coupons and promotions via the app, based on the customer's physical location. Michael notes, "There are at least ten integrated features that can really make a difference for any type of local business looking to dramatically increase their customer base quickly and effectively as well as reduce their reliance on more expensive traditional marketing. Some of those include mobile reservations, mobile loyalty cards, mobile order/payment, social media integration and more."
He refers to the well-documented and fast moving trend that shows a clear increase in the use of mobile devices, and users' preference (85% of them) of mobile apps over mobile websites.
Michael emphasizes that right now is a great time for local businesses to jump into the world of small business apps, because while major national retailers have already launched their apps, most local businesses have not and there is a real opportunity to gain competitive advantage. He notes that the costs are surprisingly low, even compared with building a website, and certainly much less than typical advertising expenses.
I'm In Marketer builds mobile apps for businesses in various industries including restaurants, salons and spas, gyms, bars/ clubs, retail stores, medical and dental practices, and even local music bands and DJs.
To enter the contest to win the Enterprise mobile app package, go to I'm In Marketers Facebook page at http://goo.gl/13RWk.
I'm In Marketer's website (http://www.iminmarketer.com) also offers a free downloadable demo of the mobile app for each type of business or profession.
About I'm In Marketer
Headquartered in St. Charles, IL, I'm In Marketer was founded by veteran marketing and technology specialists. Their main goal is to provide local businesses with state-of-the-art marketing capabilities–at a fraction of the cost of traditional advertising and marketing platforms.
Contact:
Michael Vitale
I'm In Marketer.
http://www.iminmarketer.com
mvitale(at)imin(dot)com
855-464-6123