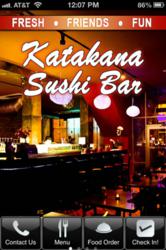 Chicago, IL (PRWEB) October 31, 2012
Katakana Sushi Bar, the home of some the finest sushi in town, recently launched its mobile app developed by ImIn Marketer to help users stay updated on their products and services. The sushi bar started operations in 2009 and is headed by top Executive Sushi Chef Abdon Calderon. He was excited to announce the launch of this iphone and android application which enables users to access and enjoy a wide variety of benefits.
The mobile app aims to provide customers an easy way to use the restaurant's order and payment system using their mobile phone. It also works to give users the chance to unlock numerous mobile coupons for use when checking in at the sushi bar. Aside from these benefits, the mobile app gives users quick access to menus which include but are not limited to sushi-sashimi appetizers, traditional Japanese Tempura, entrees, soups, Nigiri-sashimi platters, Koko Special Maki, Maki and rolls, veggie Maki, desserts, Vento box combination, and salads, among others.
The new mobile application developed by ImIn Marketer(http://www.iminmarketer.com) also allows users to socialize with one another, get access to reviews, and submit their own reviews. The Katakana Sushi Bar believes that customer satisfaction is their top priority, so they encourage customers to submit their reviews. They allow the management to know what customers are saying about their food, customer service, and their overall experience.
Aside from those benefits, this iphone and android application permits users to browse a gallery of photos to view a variety of food from the menu, offers, events, and activities that the restaurant offers. Mobile users can also connect to social media with this application. Another benefit worth mentioning is that this app allows users to have one-touch calling and GPS access to help patrons locate the sushi bar.
Since it was launched in 2009, Katakana Sushi Bar has lived up to its promises of serving only top sushi recipes that are spearheaded by Chef Abdon. The sushi bar aims to reach out to customers from all over the world with this new application with the help of ImIn Marketer – experienced at developing mobile apps for restaurants.
The new Katakana mobile app is expected to help bring in more patrons to the restaurant whether they are in Chicago or in nearby areas. In fact, users can share the downloadable app with their peers and colleagues. With the aim to reach out and serve customers better, the Katakana Sushi Bar looks forward for users' appreciation of this innovative app to access menus, order, and pay using their mobile phone.
To get the most innovative and user-friendly apps for business, check out http://www.iminmarketer.com, and discover their effective mobile marketing solutions. ImIn Marketer has helped a number of businesses roll out effective mobile apps including restaurants, salons, medical offices and others.