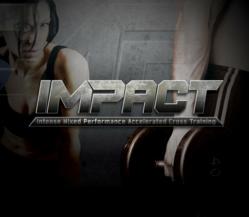 IMPACT can be taught in small group training or as a fitness boot camp format.
Rancho Santa Margarita, CA (PRWEB) January 13, 2012
For years, the Intense Mixed Performance Accelerated Cross Training known as IMPACT has helped personal trainers make an impact on their clients' lives and their own earnings. Now it is making an impact in another way: IMPACT's online certification program now qualifies for continuing education credits through the National Exercise & Sports Trainers Association's (NESTA) Personal Fitness Trainer program.
Developed by NESTA founder John Spencer Ellis and award-winning fitness coach and spokesperson Kelli Calabrese, the online IMPACT training and business systems helps personal trainers create a successful fitness business in any 30-foot by 30-foot space. IMPACT allows personal trainers to train more people in less time, using effective personal training and fitness principles.
"As a turnkey business system that helps personal trainers boost their personal wealth and success while they help more and more clients achieve their health and fitness goals, IMPACT has truly made an impact on the fitness world, so it simply makes sense that the training now earns continuing education credits for personal trainers," added Ellis, also the founder of John Spencer Ellis Enterprises, a leading national fitness and personal development solutions company. "We are firm believers in the quality, strength and effectiveness of the IMPACT online training and business system."
IMPACT allows personal trainers to earn 20 continuing education credits toward NESTA's Personal Fitness Trainer program. To become IMPACT certified, personal fitness trainers complete 12 different IMPACT workouts, seven audio training programs that include sessions on leadership, growing a business, networking and marketing, and administration as well as a checklist for getting started, training manuals, health assessment forms, handouts, fitness assessment forms, customizable marketing materials and more.
In addition, the online certification program includes details on finding a space for IMPACT classes and developing niche programs, including athletes, women's only, men's only, youth programs and more.
About John Spencer Ellis Enterprises and IMPACT
John Spencer Ellis Enterprises is a solutions provider for fitness and coaching professionals around the world, providing education, turn-key business programs, coaching and resources for new and advanced fitness and coaching professionals. For more information about John Spencer Ellis Enterprises or the IMPACT online certification, please visit http://www.impactmethod.com/
###