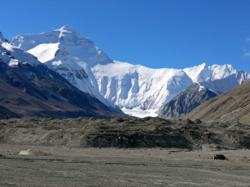 Want to have comfortable Tibet Everest tour without mountain sickness? You can if you behave well!
(PRWEB) March 29, 2013
In light of the upcoming Tibet travel season, Tibet Ctrip Travel Service-TCTS has recently published new information about avoiding altitude sickness. With the average elevation in excess of 4,500 meters, Tibet is the highest altitude region on earth. Visitors who have little experience traveling in high altitude environments can be surprised by the sudden onset of headache, dizziness, and fatigue. However, these symptoms seldom prevent travelers from participating in normal activities. Taking a few steps to prevent altitude sickness can go a long way in helping ensure a smooth Tibet travel experience!

Drink plenty of water. This is the most important thing to remember. Also, it is advisable to increase water consumption before arrival in Tibet. Mountain air is very dry compared to lower elevations; water escapes the body, in the form of vapor, when travelers exhale. Drinking lots of water is the most effective way of reducing and preventing the altitude's effects.
Avoid tobacco and alcohol. Over the first few days of traveling in Tibet, it is a good idea to minimize smoking and drinking. Alcohol causes the body to dehydrate more quickly and slows down respiration during sleep while smoking can keep the body from taking in much needed oxygen! Until travelers acclimatize to the altitude, it is important to help the body's respiratory system be as efficient as possible.
Avoid intense physical activity. Almost all Tibet tours will allow time for acclimatization to the altitude, especially those that include trekking or biking. Travelers are advised to take advantage of this time by resting and relaxing.
Although the effects of the altitude can be bothersome, Tibet's high altitude is certainly not something to be feared! Within a few days nearly all travelers will acclimatize and be able to carry out activities as they normally would. Those who anticipate having a difficult adjusting may want to talk to their doctor about certain kinds of medication that aid acclimatization. Keeping hydrated while taking time to rest and relax at the beginning of a tour of Tibet can really pay off in the long run, especially for trekkers and bikers. TCTS wants all travelers to be altitude sickness free, any and all questions are welcome!
Devin Moore provided this news release above on behalf of local Tibet travel agency TCTS (tibetctrip.com). Devin is a travel writer and independent economic analyst based in Springfield, Missouri USA. His economic research is currently focused on airfare pricing. Devin Moore works to spread awareness of Tibet and its people through publishing Tibet travel information.