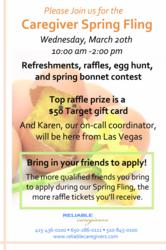 (PRWEB) March 13, 2013
On Wednesday, March 20 from 10 a.m. to 2 p.m., Reliable Caregivers is throwing a "Spring Fling" party in honor of their excellent caregivers. Twice a year, Reliable Caregivers likes to host a fun gathering where caregivers can meet their peers, relax, eat, and play games together.
As staffing experts, Reliable Caregivers will be able to coordinate caregiver schedules so that as many caregivers as possible will be able to attend their appreciation party. The party will be held in the office of Reliable Caregivers at 1700 California Street, Suite 400, San Francisco, CA 94109. There will be a $50 raffle prize, two $25 gift cards, a Best Spring Bonnet contest, and an Easter Egg hunt for prizes.
Sometimes the incredibly difficult job of a caregiver is overlooked by those who are not familiar with the details of this profession. In reality, these caregivers are crucial to the well-being of the elderly clients that they serve. Caregivers are intimately involved in the lives of seniors, and serve as the eyes and ears for family members who may live far away. As any caregiver can attest, it takes patience, skill, and sometimes physical strength to meet the needs of the senior clients. The caregivers at Reliable Caregivers are so dedicated and compassionate with the elderly that they deserve to be rewarded with some care of their own.
Linda Leary, the owner of Reliable Caregivers, truly understands what is involved in caregiving because of her personal experience. Before owning her own business, Ms. Leary worked as a Home Health Aid while attending nursing school. Besides helping with all activities of daily living, caregivers are also able to care for those with dementia and Alzheimer's, as well as give medication reminders, run errands, do light housekeeping, mental activities, and range of motion exercises.
Linda Leary says, "I am so happy to have the opportunity to express my heartfelt gratitude for all of my caregivers and the excellent job that they do; they put sunshine into the lives of our seniors, and they certainly deserve a little sunshine of their own."
About the company:
Reliable Caregivers offers highly personalized senior care, and services for the elderly with unrivaled standards throughout the Bay Area. Its experienced care providers enable individuals to maintain their daily routine, while nourishing dignity and prolonging an enthusiasm for life. From hourly care to full-time care, its home care services can be customized to meet a client's needs. Reliable Caregivers offers elder care, in-home care, non-medical home care and more.