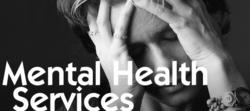 I was hesitant to seek help, but mental health professionals made a big difference in my life. - Mental health patient
Boca Raton, FL (PRWEB) April 19, 2013
In the ongoing debate over gun control, prompted by horrific mass shootings across the country, people on both sides of the debate have agreed that mental health professionals can play a vital role in identifying people who pose threats to society, and more effective mental health services could possibly reduce violent acts. Some have said that mental health professionals need to have the ability to report threatening individuals to law enforcement. The producers of the In View series (561-544-7965), an illuminating cable TV program, have announced that they will continue reports on mental health services and facilities across the country.
The stigma associated with mental health and a lack of awareness of the services available keeps many people from receiving assistance for their mental health needs. Mental health professionals provide assistance to individuals suffering from a wide assortment of mental ailments. They treat patients suffering from depression, anxiety, addiction, personality disorders, phobias and many other disorders that can affect the quality of life of those afflicted. Many in society look down upon those who seek mental health services, and people who seek assistance for mental health disorders sometimes face social isolation and exclusion. Sadly, some patients and their loved ones do not know where to turn when they want professional help for their mental ailments.
The In View TV series (http://www.inviewseries.com) will inform viewers about some of the ailments that mental health providers treat. The show (855-446-8439) will spotlight some of the leading mental health facilities across America, including those that offer in-patient services, and out-patient facilities. In interviews with patients, providers and family members, the show will explore the importance of the services that mental health centers provide.