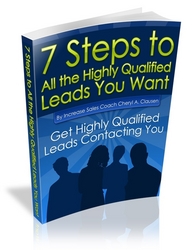 Last summer I made a conscious decision to park my car and attract all my prospects to me. Using the exact secrets I share in this ebook I was able to attract over 100 highly qualified prospects in just one short month
Charter Oak, Iowa (PRWEB) July 19, 2008
SBO's and sales producers are taking a direct hit from increased fuel costs and a slowing economy leading to urgent demand for highly qualified prospects. Not only are business costs going up but sales are down because no one seems to want to buy. The old advice to pre-qualify your appointments, streamline your driving route, using technology, and prioritizing isn't enough. Those ideas worked in the past, but today's sales environment requires more…much more.
Increase Sales Coach Cheryl A. Clausen answers today's sales coaching challenge with a new ebook "7 Steps to All the Highly Qualified Leads You Want". This just launched ebook provides 7 actions to get immediate contact from prospects without buying mailing lists, leads lists, internet leads, or cold calling.
"Each day I get asked how to find people to buy a particular product or service", said Cheryl. This tension increases as more and more businesses and consumers are cutting back on expenses to compensate for high fuel costs. SBO's and sales producers need actionable ideas to put to use immediately to get highly qualified prospects contacting them.
The information in this ebook empowers individuals to: dominate a market, sell what prospects want, make the correct business adaptations, trigger contact from prospects, earn the interest and attention of highly qualified prospects, and take actions that produce immediate prospects. Readers will find the tools and action steps needed to immediately stop low value activities, and redirect focus to results based actions. The ability to generate highly qualified leads enables small service business owners to increase sales, lower sales costs, and increase profits.
A successful business must consistently, predictably, and profitably produce highly qualified prospects without depending on outside sources. Successful businesses can't afford to waste time or resources on suspects. What's needed is simple actions individuals can take that produce results.
This ebook helps the small service business owner and sales producer know exactly what to do and how to do it to gain control of lead flow. The reader will avoid two mistakes most make when attempting to attract prospects. Plus the reader will understand what doesn't work, and why it doesn't work.
"Last summer I made a conscious decision to park my car and attract all my prospects to me. Using the exact secrets I share in this ebook I was able to attract over 100 highly qualified prospects in just one short month", said Cheryl. No special talents are required to attract highly qualified prospects and trigger them to act. The principles and actions outlined apply to any service business.
Interested readers will discover what to do and how to do it to overcome their increased frustrations with their ability to produce highly qualified leads in tough economic times. Now is the time to step up with a sales marketing strategy that produces results.
About Increase Sales Coach Cheryl A. Clausen
Increase Sales Coach Cheryl A. Clausen gets results sales training can't Because it's never just a sales issue. SBO's & independent sales professionals in service industries will find opportunities to improve their: marketing effectiveness, sales conversions, and repeat business and referrals at the Increase Sales Coach website. "7 Steps to All the Highly Qualified Leads You Want" is Increase Sales Coach Cheryl A. Clausen's most recent endeavor to help businesses get results now.
###