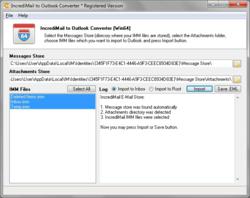 Today offered with 50% discount.
Sacramento, CA (PRWEB) November 13, 2012
The new version of the IncrediMail Converter software enables non-professionals to convert IncrediMail to Outlook in a few simple steps of the built-in wizard. The proprietary algorithm used in the program ensures fast, accurate and safe conversion of IncrediMail messages to Outlook's native PST format. The only important prerequisite for successful data conversion is the presence of an installed copy of Outlook on the same system. In this case, IncrediMail to Outlook Converter is capable of importing messages from IncrediMail's mail store directly to the default user profile of Microsoft Outlook.
This one-click approach saves users the hassle of going through additional steps and performing additional operations outside the program. When importing IncrediMail messages, IncrediMail to Outlook converter preserves the original folder structure and recreates it in the destination user profile.
"Our initial goal was to bridge the gap between IncrediMail and Outlook and not let the user think about the "how" part of the process," explains Atie, the lead developer of MegaSoft. "We haven't had any complaints from our users since the release, so it looks like we got it mostly right from the first try."
For a limited time only, MegaSoft is offering a solid 50% discount on the newest version of IncrediMail to Outlook Converter. Apply the coupon code PRWEB50U during purchase to get the discount.
Software is fully represented at http://www.incredimailoutlook.com/ site.
Download page is: http://www.incredimailoutlook.com/download-incredimail-outlook-converter.html