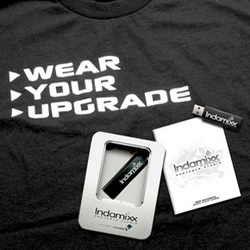 Being one of the first add-on software solutions for the explosive Netbook market gives our brand a significant advantage and awareness moving forward, which is a real game changer
Los Angeles, CA (PRWEB) February 9, 2010
Trinity Audio Group Inc. expands its line of affordable music making products for the masses by announcing their most innovative release to date: INDAMIXX Portable Studio on a USB stick for Netbooks and Laptops. "Plug the Indamixx USB stick into any available USB port on your computer and in only 14 minutes it installs a very good, low cost, pro audio recording environment," says Creative Director Ronald Stewart.
"This is the most important product we have released to date. Being one of the first add-on software solutions for the explosive Netbook market gives our brand a significant advantage and awareness moving forward, which is a real game changer."
Introducing Renoise, a Tracker based Digital Audio Workstation (DAW)
Through a strategic licensing agreement, the Indamixx USB Version features the availability of Renoise. "Renoise is one of the most advanced music production applications I've seen in years. Renoise is much more than a Tracker it's a 'Super Tracker' and we are excited to have this addition to the Indamixx lineup," says Stewart.
Indamixx USB Version -- a rich range of software applications and production tools
Featuring award winning Transmission 3.1 Real-Time Operating System, LinuxDSP, an exquisite 'suite' of mastering plugins and effects; plus ArdourXchange the first Pro Tools compatible protocol allowing for session importing into the Ardour DAW. "Our complete solution is more affordable than our competitors stand alone DAW".
'Wear Your Upgrade'
Each Indamixx USB Version is individually numbered and ships with a special t-shirt that has your upgrade code printed right on the shirt we call 'Wear Your Upgrade'.
Available now at for $149.00 at:
Indamixx.com
and Musician's Friend
Indamixx USB Version - Features and applications
Transmission 3.1 - Real Time Low Latency Audio OS
Renoise - Super Tracker
LinuxDSP - Mastering plugins and effects
ArdourXchange - Pro Tools compatible protocol
Ardour - Digital Audio Workstation
Hydrogen Drum machine
Over 260 Plugins / effects
Mixxx - Digital DJ
IDJC - Internet Radio Station
energy XT2 (demo version)
VST Host - Take your virtual instruments with you
Rhythmbox Music Player
Brasero CD Burner
Skype
Firefox
and more!
All inquiries please contact:
Ronald Stewart
Creative Director
213-915-6020
About Trinity Audio Group Inc.
Trinity Audio Group Inc. is a Washington state corporation specializing in the production and marketing of affordable, innovative field recorders and portable digital audio workstations.
VST is a registered mark of Steinberg. Pro Tools is a registered mark of Avid.
###