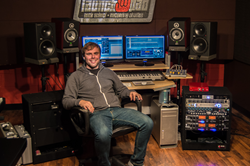 As soon as I attended an open house event at SAE Nashville, I knew that it was the right school for me. When I graduated, I felt like I could go into any studio and run sessions comfortably and confidently.
Indianapolis, IN (PRWEB) December 04, 2014
The Launch Pad, an Indianapolis, IN rock school and recording studio that's co-owned by SAE Nashville Audio Technology Program graduate Ryan Freeman, just celebrated its two year anniversary. Launch Pad is a destination for both professional studio clients from across the state as well as young aspiring rockers who live in central Indiana.
"Our music school draws students from the entire Indianapolis area, and our recording studio has been booked for over 200 projects, including voiceovers, country, rock, and rap artists," says Freeman, who's a native of Lizton. "It seems like nothing beats positive word of mouth, and our customers are eager to tell their friends about the superb facilities and programs that Launch Pad has to offer."
Freeman grew up in a musical family. He learned how to play the bass guitar at nine years old from his father, a professional bass player who performed and recorded with contemporary inspirational performer Derek Loux. Freeman added drumming to his musical repertoire when he was 12, and eventually developed his skills on guitar and mandolin. He played in church bands in middle school and a metal band in high school.
Freeman's interest in audio technology and music production was kindled while spending time with his father at Loux's recording sessions. He was fascinated by the engineering process, and used digital recording equipment that he received as a gift from Loux to produce local bands in his garage.
After graduating from Bethesda Christian School in Brownsburg in 2008, Freeman decided to pursue an education in studio production and engineering, and in 2010, he enrolled in SAE Institute Nashville's Audio Technology Program.
"I looked at the audio technology programs at other colleges, but they were too far away and too expensive," says Freeman. "As soon as I attended an open house event at SAE Nashville, I knew that it was the right school for me. I was really impressed by the school's modern gear and how friendly the staff was. In terms of the curriculum, I learned a lot of information in a very short time. When I graduated, I felt like I could go into any studio and run sessions comfortably and confidently."
After graduating from SAE Nashville in 2011, Freeman worked in an internship at BKE Technology, a manufacturer of recording studio hardware and software in Nashville. In the summer of 2012, Freeman began developing the idea for Launch Pad with T.J. Hampton, a friend from Indianapolis. The two partners launched the business in November 2012.
"For SAE grads who plan on taking their knowledge and starting their own business, I recommend that they have a real plan in place before they open their doors," says Freeman. "Once that plan is fully fleshed out and on paper, they should find every smart person who they know and beg them to rip it apart. Then, take that advice and keep revising your plan until it's strong, viable, and makes sense – creatively and financially. Most importantly, keep in mind what my teachers at SAE told me about pursuing my goals: 'You can do this!'"
About SAE:
SAE Institute provides aspiring creative media professionals with a foundation of practical theory and valuable hands-on training in their chosen areas of concentration. Under the guidance of our faculty, which is comprised of working industry professionals, students gain the essential experience they need for entry-level jobs in the entertainment business. Our students are supported in their job searches by SAE's international network of alumni, many of whom are leaders in the music, film, game arts, and live performance arenas. We offer programs in audio technology across our seven US campuses, along with a music business program at select locations, all fully accredited and focused on preparing students for employment when they graduate. Bachelor's Degree programs in Animation, Audio, Film, Game Art & Graphic Design are available at the two locations of Ex'pression College, which is owned and operated by SAE Institute Group, Inc. SAE Institute Group, Inc. is a part of Navitas LTD. Learn more at USA.sae.edu.
About Navitas:
Navitas is an Australian global education leader, providing pre-university and university programs, English language courses, migrant education and settlement services, creative media education, student recruitment, professional development, and corporate training services to more than 80,000 students across a network of over 100 colleges and campuses in 27 countries. Learn more at Navitas.com.