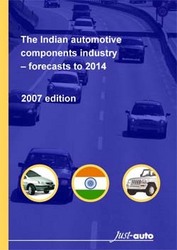 (PRWEB) August 6, 2007
The Indian automotive components industry is rapidly gathering strength and becoming much more significant to the global auto industry according to research undertaken by auto industry website http://www.just-auto.com.
The research highlights a massive influx of overseas technology and know-how since the Indian economy was deregulated in the 1990s and inward investment to India took off.
Many global companies looking to outsource to low-cost locations now view India more favourably than China as a source point for components.
There are a number of reasons for this: not least the issue of language.
All educated Indians speak fluent English, making communications easier.
Secondly, there is a good further education system in the country, leading to the high availability of well-trained engineers.
Thirdly, there is a strong manufacturing and engineering tradition in the country, which means that it is not difficult to upgrade local companies in terms of equipment, training and quality of output. Companies also tend to be entrepreneurial and willing to learn.
Finally, there is a very strong high-tech sector, making it attractive to outsource software development and R&D functions.
International Tier 1 suppliers are also becoming increasingly confident in India's ability to build more complex parts.
just-auto's report also notes that although it is now being addressed by the Indian government, Indian transport infrastructure is still poor. However, this is counterbalanced by India's excellent strategic location between Europe and Asia, allowing it almost equidistant access to both major markets.
The country's growth targets in terms of overall industry size and export value seem achievable, and the coming years are likely to see increased traffic between India and the rest of the world, in terms of inward investment into India and, increasingly, outward investment by large Indian companies in overseas manufacturing.
In the steel industry, Indian companies have taken a major global position through overseas acquisitions. Large Indian automotive firms such as Tata look set to follow, either through buying car brands or components companies.
India's position and influence in the global auto industry will undoubtedly keep on growing, the report concludes.
The full just-auto.com report, 'The Indian automotive components industry -- forecasts to 2014' is available from http://www.just-auto.com/indianautomotive/.
About just-auto
Since March 1999, http://www.just-auto.com has developed into the most respected and fastest growing automotive trade site globally. just-auto's unique news and research content is produced and sourced via a dedicated editorial team, worldwide network of correspondents and content partnerships. In addition, the just-auto.com research store provides instant access to over 4000 market reports.
# # #