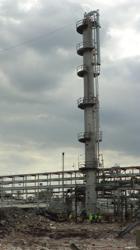 Let Us Wreck Dat
Hattiesburg, MS (PRWEB) November 30, 2012
Rhino Demo completes a six month industrial demolition project in four months in Baton Rouge, LA. The industrial demolition included the flex zone and UBOB areas at Lion Copolymer, a leader in synthetic rubber and chemical foaming agents.
The demolished structures included a 200ft methanol column, an extended batch structure, hundreds of pounds of concrete and other structures. Rhino Demo estimated an amazing 97% of demolished materials from the industrial demolition at Lion Copolymer to be recyclable.
Have a demolition project..."Let us Wreck Dat." Rhino Demo takes great pride in their safety record, efficiency, and recycling procedures, while bringing fun and excitement to the demolition industry. They hope to do this in part through educational material published on their demolition blog and using fun new terms such as their coined term "Wreck Dat."
After completion of the demolition in Louisiana, Rhino Demo is setting their sights on their next demolition in Oxford, Mississippi at the University of Mississippi. They will be performing an interior demolition at the Johnson Commons, the former student dining hall for Ole Miss students.
"We're proud to work with the industrial and manufacturing industries throughout Louisiana and across the Southeast. Our goal is to provide industrial and commercial demolition in the safest and most efficient way possible. When we can complete a project early like we did in Baton Rouge, LA, everyone is happy" says Jamie Montgomery, Chief Operations Officer for Rhino Demo.
About Rhino Demo
Rhino Demo, LLC is one of the Southeast's premier demolition contractors specializing in Industrial Demolition and Environmental Remediation. They pride themselves on their impeccable safety record, as well as their Green/LEED practices (96% average recycle rate of all demolition related materials).