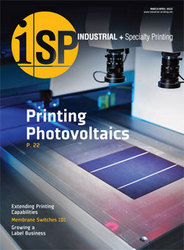 The editorial selections for the inaugural issue of ISP demonstrate the fact that industrial printing is flourishing and that education is a critical part of the momentum
Cincinnati, OH (Vocus) March 18, 2010
ST Media Group International, a Cincinnati-based publisher of information products for the design, signage, and graphics industries, has launched Industrial + Specialty Printing (iSP). This new magazine covers industrial, decorative and functional printing done as part of the manufacturing process.
Authoritative and innovative, Industrial + Specialty Printing examines the challenges printers face when setting up and maintaining efficient workflows and provides the solutions to keep production on track in industrial printing operations. The publication will also feature cutting-edge features, industry news, and new products to help printers transform processes and increase output. More than 12,000 subscribers, including in-plant operations within Fortune 500 companies, as well as contract decorators and commercial printing companies, will receive the magazine.
Gail Flower leads iSP magazine as editor. She brings more than 20 years of experience editing high-tech publications in the electronics industry and other fields, most recently working as editor-in-chief of SMT and Advanced Packaging magazines for PennWell Corp. in Nashua, NH. Working closely with group publisher, Steve Duccilli, Flower directs the strategic editorial decisions for iSP.
"The editorial selections for the inaugural issue of ISP demonstrate the fact that industrial printing is flourishing and that education is a critical part of the momentum," says Flower, "this journal is positioned to be a key part of the industry's knowledge base—a bridge that brings together skill sets, effective management concepts, and beneficial relationships between people who share a common purpose."
Industrial + Specialty Printing taps various markets including (but not limited to) automotive; medical; electronics, membrane switches, and flex circuits; RFID; OLED; solar cell and energy; consumer products manufacturers; and decals, labels, and nameplates. Plus, assorted printing processes featured include screen printing, inkjet printing (and other digital imaging technologies), pad printing, hot stamping, in-mold decoration, diecutting, and other finishing processes.
Interested readers may subscribe by visiting industrial-printing.net or calling 800-421-1321/513-421-2050, ext. 0. To advertise or receive a media kit, call group publisher, Steve Duccilli, at 513-263-9344/800-925-1110, ext. 344. A media kit is also available on http://www.industrial-printing.net.
About ST Media Group International Inc.
Located in Greater Cincinnati, ST Media Group International serves the visual communications industries with its trade publications, branded websites, a custom book division and industry events. Publications include Visual Merchandising and Store Design, Screen Printing, Signs of the Times, The Big Picture, Hospitality Style, Package Design Magazine, and Signs of the Times & Screen Printing en español. For more information about ST Media Group International go STmediaGroup.com.
###