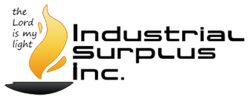 If you want to sell it, then we want to buy it!
Houston, Texas (PRWEB) April 29, 2013
Industrial Surplus Inc is proud to announce a nationwide buying trip and nationwide service for X-ray film recycling/ X-ray film disposal. Industrial Surplus has 30 years of experience of recycling x-ray film, all types of materials, and surplus machinery and equipment.
Disposing of x-ray film can be considered a delicate procedure with all of the regulations and certificate requirements. Industrial Surplus Inc can handle all of these concerns. Industrial Surplus is HIPPA certified. With an experienced staff are capable of disposing all x-ray film with ease and convenience. With each disposal of x-ray film, Industrial Surplus provides a HIPPA certificate of destruction.
Nancy J Reed at Oklahoma City Clinics who is Chief Compliance & Privacy Officer contacted Industrial Surplus regarding 30 years of x-ray film that she needed to dispose or recycle. Industrial Surplus assisted Nancy with this service. Within a day, the x-ray films was inspected and a representative met Nancy on site. A quote was provided (per pound) for the x-ray film in sleeves or without. Industrial Surplus Inc then provided all the labor for the purging of the x-ray film at no cost to Nancy. The material was weighed and disposed of. Nancy was given a Cashier's check on the same day. Within one day, Nancy disposed of her x-ray film and received a good amount of equity for her x-ray film.
Here is the type of services that Industrial Surplus provides:

MRI Film Recycling.
Chiropractor Film Recycling.
X-ray Film Recycling.
Industrial NDT Recycling.
Lithographic Film Recycling.
Dental Film Recycling.
Veterinarian Film Recycling.
Industrial Surplus Inc is one of the best-known and most respected industrial surplus dealers in the United States, Industrial Surplus Inc has been in business since 1974 and offers an exceptional array of buying and selling services for its customers. Industrial Surplus Inc is based in Houston, Texas and has three offices and 18 lay-down yards throughout the country. In addition to buying and selling all types of industrial equipment, the company also purchases scrap metal and wiring at top prices.
For more information regarding X-ray film recycling – visit YouTube Channel: http://www.youtube.com/user/xrayfilmdisposal?feature=watch
WEBSITE: http://industrialsurplusworld.com
Phone: 713-644-4011