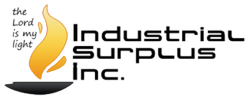 Turn Assets Into Revenue
Houston, TX (PRWEB) May 31, 2013
Industrial Surplus. In today's mass produced world, a lot of fortune 500 companies generate so much surplus from over-ordering, not utilizing, not communicating or accounting for the material they purchase for their production and manufacturing operations. Many companies are unable to identify what they have from what they need to generate more production. These companies often spend millions of dollars to save half a million. This is how companies generate surplus, by ordering the same inventories that they already have. Often companies do not correspond with their warehouses, or material is not shipped on time, or there is a lack of communication between several executives that results in accumulating even more surplus.
When companies find themselves with excess surplus inventory, it will become wasteful and unmanageable. Eventually, this excess inventory will become detrimental to a company's bottom line through insurance, carrying costs, damaged goods, additional labor, obsolescence, and more. The most effective way to rid a company of excess inventory is better management of wasteful inventory. When the best inventory management still produces excess inventory, then asset recovery is the best solution to turn wasteful inventory into cash and provide additional revenue for the company.
Imagine a company that has just purchased twelve (12) power generators to start a new project in the Gulf of Mexico when suddenly a moratorium is implemented and there no new projects being initiated in the Gulf of Mexico. Or, imagine your company was set to launch a new product line when suddenly management changed directions and now, there is an abundance of raw materials sitting in a warehouse. An asset recovery solution will turn these unfortunate situations into profitable means.
This is how Industrial Surplus serves such companies and assists them step-by-step to identify such material that may be considered surplus or obsolete in these organizations, but this surplus material will be of value in the asset recovery market. Industrial Surplus buys and sells variety of such surplus at great value, assisting these companies to make a bad situation better. By purchasing this excess inventory, Industrial Surplus can assist these companies to stay in the black.
Industrial Surplus has been in business for over 25 years. They have a reputation for providing the best value and best customer service. Even more, Industrial Surplus have multiple storage yards all across the nation and can provide services in nearly every state. For more information about the asset recovery services available, visit http://www.industrialsurplusworld.com or call 713-644-4011.