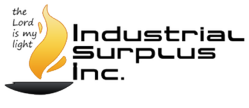 It's just a matter of putting yourself out there and think from the other party's perspectivce.
Houston, TX (PRWEB) June 17, 2013
Industrial Surplus Inc. is now launching its Summer 2013, "Beat the heat" program with great deals, promotions and discounted offers for first time buyers, vendors and affiliates that would be interested in buying or selling new, used and surplus material along with a great feature to request quote directly from the company's website.
Several business studies have realized that giving an opening discount or a concession to their clientele increases the prospects of a healthy and a mutually beneficial business relationship.
The idea of giving discounts was initiated by the in-house marketing team who understood the trade and market limitations. Majority of the companies are now buying and selling surplus online in auctions and most of these auctioneers take a percentage from either the buyer or the seller and sometimes from both. There are also hidden costs associated with such choices. Also, sometimes the inventory just sits online at these auction portals for the longest while with very few or selected bids on the material.
Industrial Surplus Inc. is now offering these major companies, power plants, chemical plants and other affiliates an opportunity to take advantage of a new improvised feature on the company's website. It allows direct feedback and opens a channel of communication between the buyer and seller. Clients, visitors or interested parties can request a direct quote and not waste too much time.
"It's just a matter of putting yourself out there and think from the other party's perspective," says Shawn Parker, Vice President of Sales and Marketing at Industrial Surplus. He further adds, "In some circumstances, it's always better to give the buyer or seller a much more personalized and direct way to request a quote, ask about a product, inquire the specifications of a deal and price their material on time and offer great value. The global market offers the same product at varied prices internationally and it often filters away serious buyers into a spiral of never ending possibilities to find the same product for less."
Reference Sites:
Website: http://www.industrialsurplusworld.com
YouTube: http://www.youtube.com/user/Industrialsurplusinc