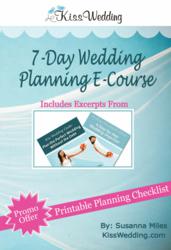 Every bride wants to have as many happy memories about planning their weddings as they do about the actual wedding day. The website, the Guide and this eCourse are all about making sure that happens for as many brides as possible!
Toronto, Canada (PRWEB) June 01, 2011
Since planning her own wedding in 2007 Susanna Miles has thrown conventional wedding planning rules out the window with her site KissWedding.com and eBook "The K.i.s.s Wedding Guide."
Her new and exclusive 7-day Wedding Planning E-course featuring inexpensive wedding ideas and simple planning tips is no exception.
The Wedding Planning eCourse will become available to bride-to-be's on Wednesday June 1, 2011. Visit K.i.s.s Wedding to sign up.
This 7 Day Wedding Planning eCourse includes 7 inspired wedding budget tips from the K.i.s.s Wedding Guide. It will reveal the hidden costs of the "false economy" trap, time-consuming and high cost DIY projects, how to make classy affair out of the budget-busting Pot Luck and Afternoon Tea receptions, and so much more.
The fast (and free) printable wedding planner checklist is the icing on the cake and is only available as a bonus for a limited time. It is part of a 10 page excerpt from the "K.i.s.s Wedding Planning Workbook" and shows couples how to work the demands of planning a wedding into every day life with the 7 Elements of Wedding Planning.
Susanna commented on her wedding planning philosophy:
'When I was planning my own wedding I used the free wedding ideas, printable wedding planners, and fast wedding planning checklists I found online and in magazines but found they were stressing me out even more.
As an event coordinator, I realized that the planners and checklists weren't well constructed. And a lot of the "cheap" ideas I found online were either that - 'cheap' - or they were far from it when you broke down the costs and time involved.
So, based on my experience planning corporate events and as a frustrated bride-to-be I created my own wedding planning checklist. Eventually the K.i.s.s. Wedding Ideas website, the Guide and now the eCourse followed."
The site (kisswedding.com) and real wedding blog (kisswedding.com/blog) is a place for brides to go for simple wedding ideas that make planning a wedding on a budget a heck of a lot easier.
The Guide, the Workbook and now the eCourse however help brides de-stress by de-mystifying the wedding industry, simplifying planning, and uncovering alot of the myths surrounding inexpensive wedding ideas.
All of the elements of the K.i.s.s. brand are based on keeping it simple & special - the very things that kept me sane while planning my own wedding and thousands since.
For tons of inexpensive wedding ideas, stress-busting tips and the free printable wedding planner, go to: http://www.kisswedding.com
###