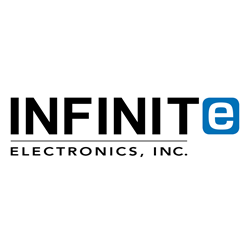 "I am excited for Jeff to join our growing company. With his experience, work ethic and personality, I know he will provide a significant level of support for the company and is a welcomed addition to the Infinite team," said Scott Rosner, Chief Financial Officer for Infinite Electronics
IRVINE, Calif. (PRWEB) September 11, 2018
Infinite Electronics, Inc., an operational holding company providing management and back office support for globally recognized electronic components brands, has welcomed Jeff Rago as the company's new Vice President of Financial Planning & Analysis. Jeff will be overseeing all financial planning and reporting functions for Infinite Electronics' global operations.
Jeff has more than 20 years of finance experience spanning a variety of industries with both publicly-traded and privately-held organizations. He has held positions in the transportation industry with Performance Team, the electronics and telecom industry with Leap Wireless, Gateway Computers and Tracfone Wireless, as well as the travel industry with Norwegian Cruise Line and academia with Corinthian College.
Jeff earned a B.A. in Political Science and a minor in Economics from University of California, San Diego and a M.B.A in International Business from the Monterey Institute of International Studies. He also has additional certifications in mergers & acquisitions, Six Sigma and strategic planning using the balanced scorecard collaborative approach.
"I am excited for Jeff to join our growing company. With his experience, work ethic and personality, I know he will provide a significant level of support for the company and is a welcomed addition to the Infinite team," said Scott Rosner, Chief Financial Officer for Infinite Electronics.
For additional information about Infinite Electronics, please visit http://www.infiniteelectronics.com.
About Infinite Electronics:
Based in Irvine, Calif., Infinite Electronics, Inc. offers a broad range of RF components, assemblies and wired/wireless connectivity solutions, serving the aerospace/defense, industrial, government, consumer electronics, instrumentation, medical and telecommunications markets. Operating under the Pasternack, Fairview Microwave, L-com, MilesTek, KP Performance Antennas, PolyPhaser, Transtector, RadioWaves, Kaelus, Aiconics, Integrated Network Cable (INC), Show Me Cables, Triangle Cables and ECore Cables brand names, Infinite Electronics serves a global engineering customer base with deep technical expertise and one of the broadest inventories of products available for immediate shipment.
Press Contact:
Peter McNeil
17792 Fitch
Irvine, CA, 92614 USA
(978) 682-6936 x1174