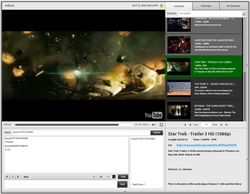 Our new TVStation allows for websites to run a white-label, relatively large video operation for social networking at prices companies can afford
Santa Clarita, CA (PRWEB) July 14, 2009
Influxis, the hosting specialist for Adobe Flash Media Server, has released a major upgrade to its popular TVStation application. TV Station 2.0 beta is designed for people to easily create a personalized broadcast network that can stream a scheduled series of media 24 hours a day 7 days a week.
With this latest release of TVStation, not only does it allow for streaming any combination of pre-recorded custom video content, YouTube videos, images, audio files or live broadcast while viewers chat in real-time, but account holders can now setup and manage multiple channels directly from one TVStation instance. This new channels feature allows the master admin user to give to multiple individual users their own password-protected 'channel' with allow/deny permissions, and yet oversee all channels for complete control of the network.
Using the latest features of Adobe Flash Media Server 3.5 including stream switching, HD quality video including all h.264 encoded media and MPEG's, TVStation 2.0 beta also utilizes the Adobe Flash Media Encoding Server allowing users to instantly encode video files automatically at multiple bit rates.
The live broadcasting engine allows streaming of live high definition video directly from Adobe Flash Media Live Encoder without use of any plug-in API. The new live engine also enables multiple users to broadcast to TVStation simultaneously, and gives the admin the ability to switch between incoming live webcam feeds.
The video player has been revised featuring a more compact player user interface ideal for instant website embedding, and a simpler user-friendly administrator interface with easier playlist building controls, including the channels and corresponding options.
"Our new TVStation allows for websites to run a white-label, relatively large video operation for social networking at prices companies can afford," says Richard Blakely, CEO of Influxis. "With the viewer's Flex source files included and the ability to host the end user files directly from your own web server, I think there will be many unique business models applied by our customers."
The TVStation viewer can be customized through the administrator screens to remove or add panels to allow for various embed options into any website. For further customization, the viewer source files are provided to allow the TVStation to be branded or utilized for any purpose, and is fully supported by Influxis Developer Support.
Uses for the TVStation 2.0 beta application include broadcasting commercials, movie previews, television shows, music videos, special interests, radio stations, sermons, live lectures, in-depth product presentation, or even modifying the player to become a streaming advertising banner.
TVStation 2.0 beta is one of a growing library of turnkey plug-and-play Flash applications which are offered with all Influxis Adobe Flash Media Server 3.5 hosting accounts. Try it live on the Influxis website at http://influxis.com/applications/tvstation2.
About Influxis
Influxis is an authorized Adobe hosting partner and specialist for the Adobe Flash Media Interactive Server. Since 2002, Influxis has built an international FMS hosting network and a series of customizable pre-built Flash applications. With a reputation for exceptional customer service and value, Influxis provides extremely reliable connections and low latency speeds via an international network of FMS servers in the U.S., U.K., and Germany. All accounts include an account management interface and access to a series of pre-built Flash applications. Customers include advertising firms, financial institutions, major international and domestic network studios, software development companies, professional sports organizations, automobile manufacturers, and more. To learn more about the Influxis' worldwide Adobe Flash Media Interactive Server hosting services: http://www.influxis.com.
###