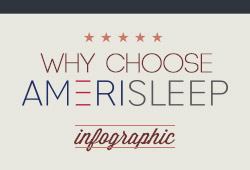 Tempe, AZ (PRWEB) March 01, 2013
Amerisleep.com, a memory foam mattress retailer fond of innovative customer connections, announces its latest infographic, a compilation of customer satisfaction statistics comparing buying a mattress online versus in a showroom.
The Why Choose Amerisleep Infographic represents an attempt to highlight the benefits of shopping online and clear up misconceptions. Custom illustrations, an easy-to-read font, and a logical flow compliment the presented data. With an array of statistics culled from reviews and surveys, the information provides a strong case.
Viewers are first introduced to consumer opinions from third-party verified reviews of Amerisleep's products. For example, 97% of reviewers would recommend the brand to a friend and 88% say their mattresses are comfortable. Overall, this is quite high, as the industry average for memory foam mattresses tends to be around 80-83%.
The infographic then takes a look at issues like off gassing and heat. The brand uses a unique type of plant-based memory foam designed to offer cooler, more responsive sleep free of toxic VOCs. Through humorous illustrations and dozens of smiley faces, the fact that Amerisleep's customers haven't mentioned these issues in over 170 reviews stands out.
Next, buying online at Amerisleep is compared with buying from typical showrooms. Better prices and higher satisfaction lead to the conclusion announcing Amerisleep as the winner. Benefits highlighted include no sales pressure, the ability to research and shop from home, and the store's no-risk satisfaction guarantees.
The infographic is the latest in a series, all of which feature unique illustrations and an interesting look at mattresses and sleep, from sleeping around zombies to the importance of quality rest. The website also offers other useful resources including a memory foam mattress buying guide and several informative articles related to beds and adjustable bases.
Amerisleep, owned by online retail collective OneMallGroup, retails highly-rated memory foam mattresses, adjustable beds and related accessories, in business since 2008. The company defines itself by exclusively offering American-made, environmentally sustainable products at competitive prices. Visit Amerisleep.com for more information.