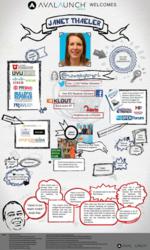 Janet is well-connected and respected in the industry is socially savvy.
Salt Lake City, UT (PRWEB) March 15, 2013
Today Avalaunch Media, an industry leader in content marketing, announced the addition of Janet Thaeler @Newspapergrl, to the Avalaunch Media team. Thaeler has joined Avalaunch as brand ambassador and will be over blogger and media outreach. In true Avalaunch style, the team created an infographic resume about Thaeler's career.
Thaeler has over a decade of experience in internet marketing, and has managed and consulted with small businesses on their social media and blogging strategies. At her previous position at OrangeSoda, she created and managed an internal blog network that helped clients rank in search engines. She is the author of the book, I Need a Killer Press Release, Now What, which is a "how to" guide for optimized press releases. She was recently featured in Utah Valley Business Q Magazine as one of Utah's top business persons on Twitter.
Janet has spoken around the country to the PRSA, PRSSA, at major universities, on many marketing webinars and at conferences. She has written for nationally recognized blogs such as: Small Business Trends, American Express OPEN Forum, Marketing Pilgrim and on her own blog, Newspapergrl.
"We've known Janet for several years and have collaborated on different projects, it's great to now have her as an official part of our team," said Andrew Melchior, co-founder of Avalaunch Media. "Janet is well-connected and respected in the industry is socially savvy."
Avalaunch previously created an infographic called, Pinterest Image Optimization for Pinnable Business, which created PinAlerts, a Pinterest tool she co-founded. The graphic, which gives Thaeler's best tips and tricks to creating repinnable images was featured on Mashable, Hubspot and got hundreds of repins. The infographic was shared over 5,000 times and that number continues to grow.
"I think I have the best job," said Thaeler. "I get to dream up ideas for infographics. Then our talented design team makes my ideas look good, and send them back to me so I can promote their work."
Avalaunch's team consists of successful business owners, attorneys, MBAs, and professionals with years of experience in both the public and private sectors. The founding Avalaunchers, Matt Siltala, David Mink and Andrew Melchior, are frequent speakers at industry events like SMX, Pubcon and Search Engine Strategies. Siltala, Mink, and Melchior are the masterminds behind Avalaunch's content marketing strategy, with a proven track record to trump the myths about the online marketing industry.
About Avalaunch Media
Avalaunch Media's core offering, content marketing, is supported by several services: consulting, infographic design, linkbait articles, pay-per-click management, reputation management, search engine optimization, and social media promotion.