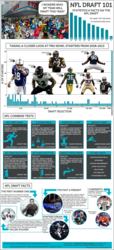 Take a visualized historical look at the players, the drills, and the history of the NFL Draft
Piscataway, NJ (PRWEB) April 17, 2013
The fate of over 1000 young men with dreams of making it big in the NFL is about to be decided. Players were given a chance to show their mettle, and now that the Scouting Combine is over, the upcoming NFL Draft will whittle that pool down to just 254 possible NFL entrants.
The 78th annual NFL Draft it set to begin on Thursday, April 25th and run through Saturday, April 27th at Radio City Music Hall in New York City. To celebrate the event, and possibly educate fans, InetSoft Technology has created an infographic to take a visualized historical look at the players, the drills, and the history of the NFL Draft, including how draft positions correlate with professional performance.
The number one takeaway from this infographic is that many of the top players come much later in the draft rounds, suggesting that top performers in college are seldom top performers in the NFL. Thirty percent of Pro Bowl starters were drafted in rounds four to seven; 14% of these players were undrafted entirely.
To view the infographic, or grab the embed code for yourself, please visit http://www.inetsoft.com/2013_nfl_draft_infographic.
While this graphical data visualization is geared towards sports fans, its sponsor, InetSoft Technology, provides free and commercial data visualization software, including Visualize Free, Style Scope Free Edition, and Style Intelligence, for individuals and companies who want to tell their own data stories.
About InetSoft
Since 1996 InetSoft has been delivering easy, agile, and robust business intelligence software that makes it possible for organizations and solution providers of all sizes to deploy or embed full-featured business intelligence solutions. Application highlights include visually-compelling and interactive dashboards that ensure greater end-user adoption plus pixel-perfect report generation, scheduling, and bursting.
InetSoft's patent pending Data Block™ technology enables productive reuse of queries and a unique capability for end-user defined data mashup. This capability combined with efficient information access enabled by InetSoft's visual analysis technologies allows maximum self-service that benefits the average business user, the IT administrator, and the developer. InetSoft solutions have been deployed at over 3,000 organizations worldwide, including 25% of Fortune 500 companies, spanning all types of industries.