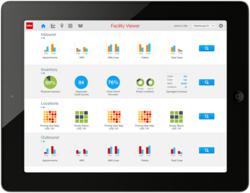 Beauty . . . as a Competence
Clinton Township, MI (PRWEB) March 27, 2013
Godlan, Inc., an Infor Gold Channel Partner representing the Midwest and Southeast, announced today the general availability of Infor SyteLine 8.03.11. In this version, the SyteLine ERP Web Client is updated to use the new User Interface design. When using Web Client, users will see the new, clean, fresh-looking user screens throughout the SyteLine application, which is the new standard for all Infor solutions.
Infor User Experience 3.0, a groundbreaking new user interface look and feel, sets the industry standard of "Beauty as a Competence". The new UI is intuitive, attractive, and as fun to use as personal technology. It incorporates the latest consumer innovations to provide a collaborative and personalized work environment.
In addition to the fresh User Interface designs, included in this release are new, extended ION integrations with SyteLine ERP and Infor e-Commerce, a market-leading platform. This ION integrated solution enables Infor users to go online quickly and economically, extend their customer service offering as part of their core processes, and adapt to their customers' process requirements in a cost-efficient manner. Users can offer their customers an online shopping experience and the ability to find answers about order status, invoices, and financial information in a B2B or B2C environment.
Deeper integration with SyteLine ERP and Infor Road Warrior is now available through ION. Road Warrior gives today's mobile sales professional access to critical customer data in a slick mobile format. Road Warrior provides more than a window on data; it delivers sharper insight and responsiveness that rivals its desktop counterparts. Powered by the same ION technology that already connects to business solutions, Road Warrior sets a whole new standard for working on the go, and helps users pick up where they left off when they get back to the office.
Godlan was awarded North America Infor SyteLine ERP Partner of the Year in 2011, the VAR Star Award in 2012 and is an approved Infor Gold Channel Partner serving customers for twenty-eight years. For more information, visit godlan.com or call 586-464-4400.
###
About Godlan, Inc.
Godlan is a leading manufacturing performance specialist that has been implementing integrated technology solutions since 1984. As an approved Infor Gold Channel Partner with a focus on Infor SyteLine ERP, Godlan supports the implementation of world-class processes and best practices throughout discrete manufacturing organizations. For more information about Godlan, its mobile application InSync Anywhere, or Infor SyteLine ERP manufacturing software demos, call 586-464-4400 or visit godlan.com.