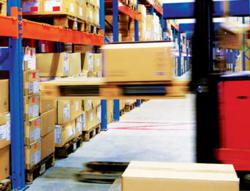 Enhancing Business Performance
Clinton Township, MI (PRWEB) March 14, 2013
Godlan, Inc., an Infor Gold Channel Partner representing the Midwest and Southeast, announced today that they will host a live software demo webinar on Tuesday, March 19, 2013 @ 10am Eastern Time featuring Infor SyteLine ERP Pick, Pack, Ship features in the latest 8.03.11 release of SyteLine ERP software.
The webinar software demo will be conducted by Infor Subject Matter Expert Craig Kumpula with the Business Solutions department.
Infor SyteLine ERP version 8.03.11 has a new UI design delivering an impressive "consumer grade" experience that is simple to use and easy to understand, designed to enable end-users to learn, ask, suggest, share and experience - all in ways previously unavailable for enterprise applications.
To register for this webinar, visit this page to request credentials:
http://tinyurl.com/b5dscyy
Godlan was awarded North America SyteLine ERP Partner of the Year in 2011 and is an approved Infor Gold Channel Partner serving customers for twenty-eight years. For more information, visit http://www.godlan.com or call 586-464-4400.
About Godlan
Godlan is a leading manufacturing performance specialist that has been implementing integrated technology solutions since 1984. As an approved Infor Gold Channel Partner with a focus on Infor SyteLine ERP, Godlan supports the implementation of world-class processes and best practices throughout discrete manufacturing organizations. For more information about Godlan, its mobile application InSync Anywhere, or Infor SyteLine ERP manufacturing software demos, call 586-464-4400 or visit http://www.godlan.com.
About SyteLine ERP
Infor SyteLine ERP provides the foundation to improve business efficiency, customer service, and overall manufacturing productivity for a broad range of industries, including metal fabrication, industrial equipment and machinery, high-tech and electronics, and more. Developed by experts in discrete manufacturing, Infor SyteLine ERP has more than 25 years of experience built in. That means you can be confident you've got the tools you need to get the job done—and that you're getting it all from an experienced support team.
About Infor
Infor is the third largest provider of enterprise applications and services, helping 70,000 customers in 194 countries improve operations, drive growth, and quickly adapt to changes in business demands. Infor offers deep industry-specific applications and suites, engineered for speed, using ground-breaking technology that delivers a rich user experience, and flexible deployment options that give customers a choice to run their businesses in the cloud, on-premises, or both.