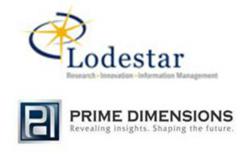 This alliance offers clients a unique, end-to-end information management solution focused on improving business performance across their enterprises.
Princeton, NJ (PRWEB) March 06, 2013
Lodestar announced today that it has forged a strategic alliance with Fairfax, VA-based Prime Dimensions, a leading provider of data management, business intelligence, advanced analytics, and Big Data services. The alliance combines Prime Dimensions' capabilities with Lodestar's Information Management Practice's expertise in knowledge management, data governance, and strategic business information utilization to offer clients a unique, end-to-end information management solution focused on improving business performance across their enterprises.
Lodestar Information Management Practice Leader Tim Fortin commented, "We are delighted to be joining forces with Prime Dimensions. They are a perfect complement to our existing information management capabilities. In particular, their Big Data expertise allows us to "push the envelope" in helping clients make use of business analytics to drive decision-making in innovation, new product/service development, brand positioning, and go-to-market strategy."
Prime Dimension's Founder and Managing Partner, Michael Joseph added, "Our alliance with Lodestar enhances the value proposition of our core services by bringing together proven leadership, strategic thinking and technical expertise. We will leverage Lodestar's breadth and depth of industry experience to solve complex information management problems and confront Big Data challenges. Together, our firms offer a multi-disciplinary approach for achieving measurable, sustainable results and delivering exceptional client service."
In addition to its data and analytics capabilities, Prime Dimensions also brings extended experience in public sector and Washington Technology Top 100 government contractor consulting and will augment Lodestar's rapidly expanding work in this critical industry vertical.
About Lodestar
Lodestar is a B2B consulting firm that integrates Research, Innovation and Information Management, enabling our clients to build more effective organizations. Our collaborative approach results in evidence-based recommendations that help our customers tell their story, develop new products and growth strategies, measure the impact of their investments, and maximize their use of information resources.
For more information, visit our website at http://www.lodestarlink.com.
About Prime Dimensions
Prime Dimensions, LLC provides professional consulting services in data management, business intelligence and advanced analytics, with focus on operational aspects and emphasis on Big Data strategy and technology. The firm possesses related domain expertise in areas such as performance management, decision optimization, fraud detection and incident management, and offers a business-focused, user-centric approach to data and analytics.
For more information, visit Prime Dimensions at http://www.primedimensions.com and follow on Twitter @PrimeDImensions.