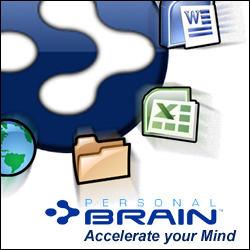 "PersonalBrain 5.5 enables unprecedented speed and a focused information view that enhances productivity for anyone who is juggling multiple tasks and wants to assimilate and understand information quickly"
Marina del Rey, CA (PRWEB) November 17, 2009
TheBrain Technologies announced that PersonalBrain 5.5, the latest version of its powerful information visualization and organization software is now available for Windows, Mac OS X and Linux.
Building on PersonalBrain's award-winning user interface and file management capabilities, version 5.5 augments users' ability to create and manage a complete knowledgebase without limits. Users can integrate all information in a visual context and accelerate knowledge capture and understanding of content through an interconnected network of Thoughts.
PersonalBrain's dynamic interface helps users see and do more, including organizing ideas, projects, files, and Web pages. Any piece of information can be connected to anything else creating a remarkable digital memory of interconnected information trials that are completely unique to each user's business processes, daily tasks and individual perspective. PersonalBrain 5.5 contains over 150 new features and improvements.
PersonalBrain 5.5 Feature Highlights

Advanced reporting with display filtering. Powerful custom reports can now be defined utilizing multiple criteria including types, tags, and attachments.
Faster, more flexible information visualization options. PersonalBrain's popular outline view now enables unlimited parent-ward expansion. Additionally there are many improvements to the expanded view including automatic saving.
Revamped calendar with recurring events. Users can setup events and reminders to stay on top of all project deadlines and key timelines.
Keyboard shortcuts for virtually every feature. Power users can further customize features with their own keyboard commands.
Integrated screen-capture capability. A powerful and convenient method for grabbing any portion of your screen to use as a zoomable Thought icon.
Expanded preferences, Thought spellchecking, streamlined user interface and more. There are over 150 new features and improvements in PersonalBrain 5.5.
"People need the ability to shift contexts quickly without overlooking important details," said Harlan Hugh, Chief Technology Officer of TheBrain. "PersonalBrain 5.5 enables unprecedented speed and a focused information view that enhances productivity for anyone who is juggling multiple tasks and wants to assimilate and understand more information quickly."
Pricing and Availability: Free Upgrade for All PersonalBrain 5.0 Users
PersonalBrain 5.0 is offered in three editions for immediate download: Free, Core, and Pro. PersonalBrain Free is offered at no charge and lets anyone link ideas, Web pages, images and notes. Pro and Core editions are priced as follows: PersonalBrain Pro $249.95, PersonalBrain Core $149.95. The upgrade is free for all PersonalBrain 5.0 users. PersonalBrain 4 users can upgrade to 5.5 for $74.95. PersonalBrain runs on Windows, Mac OS X, and many flavors of Linux.
About TheBrain Technologies
TheBrain Technologies helps people see, share and find information faster. TheBrain's PersonalBrain™ dynamic mind mapping software helps users see and organize their information the way they think about it. TheBrain also offers an Enterprise Knowledge Platform, BrainEKP™, which combines a natural language search engine with a compelling visual display of topics so users can see and discover critical information relationships. TheBrain's customers include: Encyclopædia Britannica, Navy Special Warfare, Tyco, Accenture, Park Nicollet, Medtronic, US Department of Defense, California Casualty Insurance, a leading media research company, retail chain and financial services company and other Fortune 500 organizations. Download PersonalBrain at http://www.thebrain.com or e-mail info@thebrain.com for more information.
###