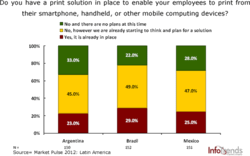 It is becoming critical that vendors effectively extend the print infrastructure to the mobile worker.
(PRWEB) September 26, 2012
InfoTrends has released another installment of its Market Pulse series. Market Pulse 2012: Latin America examines the office equipment and supplies market in Argentina, Brazil, and Mexico and considers the differences and similarities within these countries to create a market snapshot of the region. Through this survey, InfoTrends has uncovered that respondents are anticipating a significant increase in printing from mobile devices, scanning, and printing from fixed devices.
As more people acquire smartphones and mobile computing devices, InfoTrends encourages vendors to do everything possible to ensure their direct sales forces and channel partners are installing the solutions for printing from mobile devices at customer locations in the emerging and advanced markets of the world. Respondents were asked if they have a print solution in place to enable employees to print from their smartphones, handheld, or other mobile computing device. Brazilian respondents were the most likely to report they have a mobile print solution in place and were also the most likely to say that they are starting to plan for a mobile print solution. However, Argentinian and Mexican IT decision makers are also highly interested in mobile print solutions, with the overwhelming majority of these respondents reporting that they have implemented a mobile print solution or are planning to implement one.
"These responses represent a huge opportunity for vendors as they indicate that the IT decision maker audience will be receptive to discussions regarding mobile printing solutions," says Zac Butcher, Director of InfoTrends' Digital Peripherals Solutions Consulting Service. "As the office extends to a wider range of work locations, and businesses find themselves supporting a diverse range of mobile platforms, it is becoming critical that vendors effectively extend the print infrastructure to the mobile worker." Remote employees are learning new behaviors all the time. When a new behavior does not involve print, and it becomes reinforced over time, new ways of working are established and these may no longer involve printing.
InfoTrends' Market Pulse 2012: Latin America is part of the Market Pulse series. As the name suggests, these documents are designed to take the "pulse" of selected regions so that industry vendors can obtain an overview of the office equipment and supplies markets at periodic intervals.
Market Pulse covers the following regions and countries:
BRIC – Brazil, Russia, India, & China
Central & Eastern Europe –Czech Republic, Hungary, Poland, & Russia
Latin America – Argentina, Brazil, & Mexico
Middle East & Africa – Israel, South Africa, & Turkey
North America – Canada, Mexico, & U.S.
Western Europe – France, Germany, Italy, & U.K.
Market Pulse can be purchased as a series or as individual reports. Each regional package includes a detailed report identifying the key findings, opportunities, and recommendations; a set of PowerPoint charts; and data tabulations for the region.
For more information on Market Pulse or to sign up as a subscriber, contact Scott Phinney at +1 781 616 2123 or e-mail scott_phinney(at)infotrends(dot)com.
InfoTrends is the leading worldwide market research and strategic consulting firm for the imaging, document solutions, production print, and digital media industries. We provide insights and advice to help clients understand market trends, identify opportunities, and grow their business. Additional information about InfoTrends is available on the Web at http://www.infotrends.com.
For media inquiries contact Donna O'Malley at +1 781 616 2116 or donna_omalley(at)infotrends(dot)com.