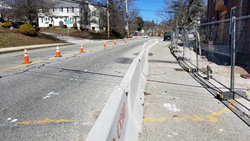 subsurface data to safely place a new water line
ARLINGTON, Mass. (PRWEB) April 20, 2019
This Spring, Infrasense had the pleasure of serving its home community of northeastern Massachusetts. A two-person team surveyed in a grid pattern at 2.5' spacing over a 9,000 square foot survey area. GPS coordinates were tied into the data and used for reference points such as buildings, utility mark outs, man holes, and catch basins. The goal of the survey and report was to give site developers the current subsurface data to safely connect to a water line and avoid existing utilities.
The ground penetrating radar (GPR) survey was performed using a 400 MHz antenna system, which can "see" 8-10 feet beneath the ground surface under favorable conditions. The antenna is mounted on a human operated cart and controlled by a GSSI SIR-4000 data acquisition unit.
Our GPR analysts assembled the data into a 3-D model in order to visualize the subsurface conditions and delineate all existing utility locations. The results were presented in a CADD compatible plan-view format for easy integration into existing site plans.
About Infrasense, Inc.
Since 1987, Infrasense, Inc. has applied advanced technologies to address the most difficult challenges in subsurface scanning. Infrasense's engineers nondestructively extract critical information from a diverse range of structures. In addition to providing ongoing subsurface evaluation services to clients across the country, the firm has also conducted numerous research programs to advance the field of subsurface detection and nondestructive evaluation. To learn more about Infrasense and the services we provide, visit our website:
http://www.infrasense.com