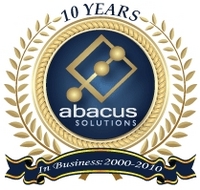 We have worked hard to build up our channel partnerships, and we know our partners add huge value to Abacus.
Marietta, GA (PRWEB) November 21, 2010
Abacus Solutions, an IT infrastructure solutions provider, recently hosted a Technology Workshop at their headquarters in Marietta, GA. Abacus has been in business for over 10 years, and has formed strong business partnerships with many IT industry leaders. This Workshop was an opportunity to showcase a few of these partnerships in a two-day, interactive event.
The Technology Workshop was co-sponsored by five of Abacus' key partners: Dell, Aruba Networks, Bradford Networks, Neverfail and Artec-EMA. Each partner presented their solutions in four hour-long sessions across two days. Participants could choose which sessions they wanted to attend based on interests and availability.
Sessions focused on a variety of infrastructure solutions ranging from networking and business continuity to desktop management and email archiving. Dell presented their desktop management solution, KACE. Aruba and Bradford teamed up to discuss networks solutions around security and wireless infrastructure. Neverfail presented their business continuity solutions and Artec-EMA demonstrated their email archiving appliance.
"We have worked hard to build up our channel partnerships, and we know our partners add huge value to Abacus," said Patrick Hiller, CEO of Abacus Solutions. "This event gave our customers and prospects the opportunity to learn about some of our key partners, as well as tour our facility and meet our management and engineering teams."
Recently Abacus has made an effort to focus on growing their solution offerings and partner relationships. "The Workshop was a huge success," said Hiller. "We will continue to host a workshop each quarter, involving different partners each time. This is one of the best ways to demonstrate to our customers and prospects the entire portfolio of infrastructure solutions Abacus can offer."
About Abacus Solutions
Abacus Solutions strategically combines products, services and resources to deliver IT infrastructure solutions that solve your business needs. The company architects multi-platform enterprise-level, server, storage and networking solutions by offering technologies from leading vendors. Products include servers, software, new and refurbished networking equipment and storage solutions. Whether new or expertly refurbished and warrantied equipment is needed, Abacus works directly with, and across, the purchasing and IT departments at both strategic and deep-dive technical levels to match the right equipment, budgets and processes to a company's direct needs -- delivering technology much faster than working directly with OEM vendors, at a fraction of the cost. For additional information, call 770-738-1101, 1-800-605-5446 or visit abacusllc.com.
# # #