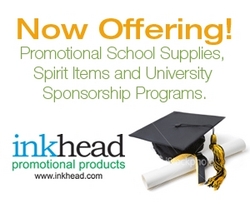 The earlier the better! When it comes to imprinted school products, you can never order too early!
Atlanta, GA (PRWEB) July 14, 2008
Back to school season is just around the corner again and summer is the most important time of the year to stock up on imprinted school spirit items and get partnerships on track for the school year to come.
Popular promotional items purchased this time of year are school fundraising products, imprinted athletic apparel, imprinted school supplies, and custom school spirit items. Due to the busyness of the season, InkHead Promotional Products urges schools to allow plenty of time for creating artwork, imprinting, and delivering promotional items.
Turnaround time can take up to 20 business days, so to be fully prepared InkHead recommends ordering early. While rush production is available, it can increase cost of production and shipping and may not be available on all products. If products are intended to be sold in stores, sufficient time will be needed for adding products to the inventory as well as pricing and displaying the products before school starts. "The earlier the better! When it comes to imprinted school products, you can never order too early!" commented Chris D'Agnese, InkHead President and CEO.
There is a trend in the U.S. of schools beginning and ending earlier in the year. Schools should remember to adjust their order times accordingly. The most common time for students to purchase imprinted school spirit items such as imprinted apparel and custom school supplies is early in the year when they are already in the school book store. Having products available during the back to school rush is vital for sales. Any school hosting spirit rallies during the first few weeks of classes, should be already considering which promotional items and supplies they will need.
InkHead believes that students are more likely to obtain high grades and be involved extracurricular activities when they are excited and proud of the school they attend. Imprinted School Spirit Items are a great way to build unity amongst students and make them feel like they fit in. Creating school pride is a great way to keep students out of self destructive activities like drugs and alcohol. InkHead feels so strongly about school spirit, they are sponsoring schools and offering 15% discount. The number of sponsorships is limited so InkHead urges schools to contact them as soon as possible about this opportunity.
Common imprinted school spirit items that InkHead says no school should go without are imprinted apparel such as: promotional pens , custom pencils , logo t-shirts, personalized sweatshirts, and customized hats. These items are very popular for back to school season. Most students love to wear apparel with school logos and they are great as gifts for relatives and friends. Another popular category is promotional car decals such as clear stickers with school logos, bumper stickers, and custom license frames featuring a fraternity logo or slogan which are particularly popular with universities.
Visit InkHead's online catalog to get started on your next school spirit items purchase. Schools that are interested in sponsorship from InkHead should email jmiller @ inkhead.com or call 1-800-554-0127 x804.
About the company: InkHead.com was awarded the second fastest growing online promotional products distributor since 2007. The company's corporate office is located at Winder, GA. To learn more about InkHead's core products: Promotional Products, Promotional Gifts , and Corporate Gifts , visit http://www.InkHead.com.
# # #