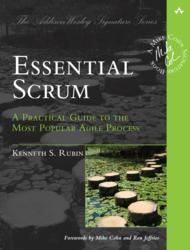 Essential Scrum describes the things you have to know if you're going to be successful when applying Scrum.
Niwot, Colorado (PRWEB) August 07, 2012
Kenneth S. Rubin, managing principal at Innolution, LLC, has published an invaluable guide for all Scrum and agile software practitioners. His new book, Essential Scrum: A Practical Guide to the Most Popular Agile Process, is now available in both print and Kindle versions. Immediately after its release the book advanced to the No. 1 ranking on Amazon's Best Sellers list in two computers and technologies categories – agile project management and software development.
"I'm very pleased to have achieved the No. 1 ranking and am gratified that after many years of practicing, teaching, and coaching teams in agile development that I can now share my experiences with so many of my colleagues in the software development industry," explained Rubin.
The Essential Scrum book is the complete, single-source reference for teams that want to use Scrum to develop innovative products and services to delight their customers. The book illuminates the values, principles, and practices of Scrum, and describes flexible, proven approaches that can help teams implement it far more effectively.
The book is not written for any one specific role—it is not a book specifically for product owners, or ScrumMasters, or members of the development team. Instead, it is intended to give everyone involved with Scrum, from Scrum team members to those with whom they interact in the organization, a common understanding of Scrum based on a core set of concepts with a clear vocabulary for discussing them.
Kate Schafer, Vice President, Engineering at icix remarked, "Kenny Rubin has trained the development staff at icix and trained both developers and executives at my previous company. Essential Scrum is a great resource for reinforcing what we learned in Kenny's training and for introducing additional important material that will help us delight our customers and deliver superior business value using Scrum. I have already purchased copies of Essential Scrum for our executives and developers; this is a book everyone who cares about delivering customer value should have in their reference library."
The book is available for purchase in both print and Kindle version at Amazon and other fine retailers. You can learn more about the book at: http://www.essentialscrum.com.
About the Author
Kenneth S. Rubin is managing principal at Innolution, LLC, an agile training and coaching company that helps organizations develop products in an effective and economically sensible way. A Certified Scrum Trainer, Kenny has trained over 18,000 people on agile and Scrum, Smalltalk development, managing object-oriented projects, and transition management. He has coached over 200 companies, ranging from start-ups to Fortune 10.
Kenny was the first managing director of the worldwide Scrum Alliance, a nonprofit organization focused on the successful adoption of Scrum. In addition to authoring the book Essential Scrum: A Practical Guide to the Most Popular Agile Process, he is also the coauthor of the 1995 book Succeeding with Objects: Decision Frameworks for Project Management.
You can learn about his background at: http://www.innolution.com and follow him on his blog at the same site. You can also follow him on Twitter using @krubinagile.