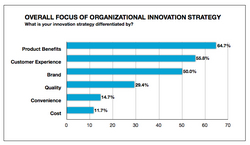 The key lies in understanding that true demand for innovation originates with the end user, their expectations and habits which are evolving in response to the current economic climate
Neenah, WI (PRWEB) June 30, 2010
Organizations are refocusing on enhanced end user benefits and improved customer experience while still trying to manage total costs, according to a new Innovation Industry Pulse Poll by Innovationedge, a leading U.S. – based strategic consultancy. The Innovation Industry Pulse Poll is based on a highly-targeted survey of executive and management-level professionals from global organizations.
The survey captured the current pulse across industries on innovation leadership, measurement and strategy. In the survey, respondents stated that their company's innovation strategy is focused on enhanced benefits (65 percent) and customer experience (56 percent) to differentiate themselves from competitors. To that end, 86 percent of survey respondents also agreed that their company communicates a strong belief in the value of innovation to create a competitive advantage in the marketplace.
Only 12 percent surveyed stated that their strategy is focused on differentiating their products by cost alone.
The top five consumer spending trends of 2010 were also released by Nielson this year, which are identified as restraint as the new normal, value as a top priority, store brand growth, grocery consolidation and product assortment debates. According to Nielson, while consumers are still looking to save money, they are also placing priority on value, which makes it a must for manufacturers to "include some point of differentiation beyond pricing." Additionally, the growth of store brands is placing pressure on national brands to increase a sense of authenticity and awareness to remain competitive.
"Companies are striving to better understand how to deliver top-line growth and deliver innovation in today's tough business climate. The key lies in understanding that true demand for innovation originates with the end user, their expectations and habits which are evolving in response to the current economic climate", said Cheryl Perkins, president and founder of Innovationedge. "Companies must deliver improved or equivalent functionality and performance and generally at a competitive price to satisfy the end user's needs and expectations. Satisfying these needs and expectations is a proven strategy for success."
About Innovationedge Research
The Innovation Industry Pulse Poll is a quarterly survey sent by Innovationedge to nearly 200 executive-level innovation professionals at leading global organizations. The survey aims to capture the latest developments on innovation leadership, measurement and strategy.
# # #