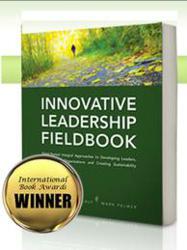 If you are betting big on transformative change, you'll find the insights in this Guide will make you a master of that journey
Columbus, Ohio (PRWEB) March 19, 2013
Leading change starts with leadership and yet in many organizations the process of leading change often omits the idea that transforming leaders is an integral part of the overall transformation process. This Guide starts with an approach to leadership called innovative leadership. It is a comprehensive model defining five key elements required to successfully transform organizations.
Section One of this Guide focuses on building innovative leadership exploring how to build and apply it. It explores the model in detail and gives examples of how an innovative leader can use these elements in transformation efforts.
The second section of the Guide focuses on the process of leading transformative change. This section puts innovative leadership to action by building on exercises from Section One. It provides a change model, gives an example of how an innovative leader transforms his organization, and offers practical tools and steps to lead change.
Because innovative leadership influences by engaging the four dimensions or belief, action, culture, and systems equally, innovative leaders are uniquely qualified—and have a much higher success rate—to transform organizations. A primary reason for transformation failure is that leaders focus on the systems, rather than the larger context that includes themselves as leader and the organizational culture.
During this decade of increased complexity and failed change initiatives, amid an accelerated need for change, it is critical for organizations to identify new models that address these challenges while maintaining efficient and effective operations. This Guide provides models that increase your ability to successfully implement sustained change.
"Metcalf marries the art and science of change management into a playbook that maps a path to new levels of organizational performance. If you are betting big on transformative change, you'll find the insights in this Guide will make you a master of that journey." says Ralph Spitzen, director, Continuous Improvement, Worthington Steel.
Metcalf & Associates, Inc., is a leadership development and management consulting firm that uses an integrative approach to help leaders and their organizations innovate how they lead and how they operate, helping them to thrive in a rapidly changing environment. CEO Maureen Metcalf is an acclaimed thought leader who has developed, tested, and implemented emerging models that dramatically improve leaders and contribute toward organizational success. Go to http://www.innovativeleadershipfieldbook.com to find out more about Metcalf & Associates and for information about all the workbooks in the series.