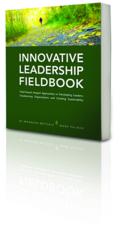 Offers a fresh perspective on leadership that helps leaders align their actions with the organizational culture and systems
Columbus, OH (PRWEB) June 14, 2012
"Leadership needs innovation the way innovation demands leadership. By combining them, you improve your capacity to deliver results," say Metcalf and Palmer. The Innovative Leadership Fieldbook introduces a thoughtful, new model of leadership and provides a six-step process for developing the innovative leadership qualities of leaders, managers and individual contributors through a combination of well-researched theory, practical business case studies, and corresponding tools and templates.
The book weaves the journeys of two executive leaders on the path to innovate how they lead and implement change in their organizations. Both encounter their own unique challenges, organizational cultures and outcomes, which provide invaluable insight into how innovative leaders develop.
Mike Sayre, President and COO at 2Checkout.com noted, "As the Innovative Leadership Fieldbook so artfully points out, 'true leaders are both born and made – our leadership skills evolve as we grow.' Had I had insights from this book earlier in my career, including my first CEO role, my leadership development would have been significantly accelerated, helping me better navigate new challenges. Nonetheless, I'm happy to have it now!"
The Executive Innovative Leadership Workbook, designed specifically for busy executives, will be available in June 2012. Based on the Innovative Leadership Fieldbook, it includes field-tested processes and worksheets for innovating how you lead to transform your organization and create sustainability.
Metcalf & Associates, Inc uses a holistic approach to help leaders and their organizations innovate how they lead and how they operate, helping them thrive in a rapidly changing environment. CEO Maureen Metcalf is a an acclaimed thought leader who developed, tested and implemented emerging models that dramatically improve leaders and organizations success in changing times. http://www.innovativeleadershipfieldbook.com