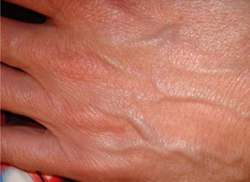 Not only do my hands (and skin) look 10 years younger, but I also feel 10 years younger! I have more energy and less aches and pains then I've had in a decade
Baltimore, Maryland (Vocus) March 4, 2009
MyPersonalOptimizer.com launches its new life enhancing product which doubles as an attractive interior design element and hangs from the ceiling - now available for the first time in the U.S.
Discovered by accident 12 years ago, this interior design element was found to generate a calming relaxing feeling, as well as improved healing to the patients of a university hospital. Patients staying in those rooms where these design elements were hanging reported that they felt as if they were on vacation - relaxed and rested. Now hundreds of units are hanging in hospitals throughout Europe. My Personal Optimizer is used and endorsed by scientists, doctors, world class athletes, private businesses, government officials and thousands of private homeowners.
After many scientific tests, as well as improving the quality of life for thousands of people in Europe, My Personal Optimizer is now available to help people sleep better in the U.S.
It hangs from the ceiling and removes stress and tension from the environment and the body. In 2005, a scientific "peer reviewed" study shows the device had a harmonizing effect on the human body - and biochemical parameters collected from saliva samples showed increased IgA (a sign of lower stress and relaxation). With less stress and tension, the body is able to sleep deeper and rest better. When we sleep better, our body produces more melatonin, and many doctors consider melatonin to be a promising anti-aging therapy. In addition, "My Personal Optimizer" gives people more energy.
You can see the added benefits this Maryland woman received after she hung "My Personal Optimizer" in her home for 4 months. Click here to view the "Before" picture. To view her hands four months after using My Personal Optimizer, click here. Her hands (her skin) look 10 years younger.
"Not only do my hands (and skin) look 10 years younger, but I also feel 10 years younger! I have more energy and less aches and pains then I've had in a decade," says 45 year old Tammy Rose from Pasadena, Maryland.
To view Tammy's complete story and for clear examples (before and after) of how the operation of her body improved, go to http://www.mypersonaloptimizer.com .
To review the scientific studies as well as comments from doctors and scientists, go to: http://www.mypersonaloptimizer.com .
Interviews with Tammy Rose or the company president, may be arranged by contacting David Reecher at (443) 623-2565.
Contact:
David Reecher
Tel: (443) 623-2565
"My Personal Optimizer"
4402 Ritchie Highway
Baltimore, MD 21225
# # #