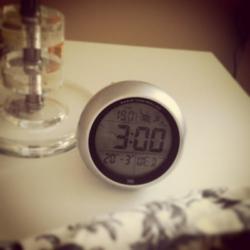 40% of Brits are not getting the NHS recommended six to nine hours sleep.
(PRWEB UK) 22 March 2013
Chronic insomnia, as anyone who suffers from it will be well aware, is not ideal, but is surprisingly common. Insomnia (Latin for 'no sleep') is a condition that renders individuals unable to fall asleep or stay asleep, with the term 'chronic insomnia' being used to describe symptoms that have persisted for three weeks or more.
According to the British Sleep Council, the number of Brits who only manage to get between five and six hours of sleep per night has increased dramatically over the past three years, with a staggering 40% not getting the NHS recommended six to nine hours [1]. But just why is sleep so important?
The Science of Sleep
The average human spends a third of their lives doing it, Napoleon and Florence Nightingale survived on not very much of it (four hours per night) and Thomas Edison declared it 'a waste of time' [2]. Everyone has a different perspective on sleep – to some it is a luxury to others an inconvenience. Some need very little of it, others need a lot and some can't seem to get much of it at all. Whichever category individuals might fall into however, sleep is a biological requirement without which a human cannot function.
Whilst scientists still remain baffled as to why sleeping is so essential, what they do know for certain is that a lack of it is extremely detrimental to brain performance.
Whilst the majority wouldn't dream of getting behind the steering wheel whilst over the limit, without knowing it a huge number are doing the equivalent by taking to the roads when deprived of sleep. According to Think!, research suggests that almost 20% of accidents on major roads are linked to sleep deprivation, with sleep-related accidents more likely to result in fatality or serious injury than any other kind [3].
In addition to reduced alertness and performance, other short term side effects of insomnia and chronic insomnia include cognitive and memory impairment, stress, relationship stress and generally a poor quality of life.
If left untreated, the long-term impact can lead to numerous serious medical illnesses including high blood pressure, heart attack, heart failure, stroke and various mental health problems including depression and other mood disorders [4].
Sleep Statistics
This March is National Bed Month, a month long celebration dedicated to increasing awareness of the importance of a good nights sleep and sharing tips and advice which will help individuals suffering from insomnia and chronic insomnia to do just that.
The statistics above highlight just how important it is for individuals to get a good rest at the end of each day – but with figures suggesting Britain is a growing nation of insomniacs, how can individuals get that much needed shut eye?
Figures put together by the National Sleep Council show that:

A third of the population (33%) is now getting by on just five to six hours sleep a night compared to 27% in 2012.
The majority of people (70%) sleep for seven hours or less.
-Almost half of Britons say that stress or worry keeps them awake at night.
-7.9 million have used alcohol to help them get to sleep at night whilst 6.8 million self-medicate with over-the-counter tonics.
Sleep Advice
Today the average lifestyle is brimming with stimulation – from listening to the radio on the way to work through to replying to emails on smart phones and rounding off the day with a spot of television in bed. With so much going on is it really any wonder that many people find it tremendously difficult to switch off at the end of the day?
For those who would classify themselves as having insomnia or chronic insomnia, The Sleep Council have developed some useful advice to help eliminate factors which may be causing disturbed sleep:
In the bedroom
1. Only use the bedroom for sleep and sex and not as an extension of your living quarters.
2. Eliminate light pollution and ensure the room is completely dark. This could mean switching of aerials, televisions, clocks and anything else that might have an LED display. You may also wish to install blackout curtains or use an eye mask.
3. Ensure the temperature is between 16°C and 18°C. Not too hot and not too cold.
Stress
Busy and stressful working and personal lives can both contribute to us sometimes finding it difficult to wind down. As we lie in bed thinking about the events of the day and what's to come tomorrow, the mind races and the cogs whir. Scientists have found a definite link between anxiety and sleeping patterns, and have found that when a person is anxious their heart rate tends to increase making it very difficult to relax and drift off.
To calm the heart rate, place your hand on your heart and remain very quiet so that you can hear and feel it beating. Then take deep breaths of between three and four seconds each in and out and repeat until your heart rate slows.
Whilst the effects of deep breathing are psychological, it can result in a physiological response in the body that acts to normalise respiration rate and calm you.
Hypnotherapy for insomnia and chronic insomnia
Deep relaxation is key to a good nights sleep and individuals who are unable to effectively reach that stage independently may benefit from consulting a hypnotherapist.
A hypnotherapist specialising in this area will aim to help individuals return to more regular patterns of sleep by using a set of specialist techniques in order to resolve any underlying anxiety issues whilst teaching and promoting relaxation.
Whilst each sleep hypnosis treatment programme will vary from client to client depending on both their own personal circumstances and the specialist areas and training of their hypnotherapist, typically treatment may involve the following:
>Deep relaxation techniques to reduce stress, anxiety and tension.
>Identifying and challenging negative beliefs about sleeping patterns.
>Replacing those negative beliefs with more positive ones with the help of a hypnotherapist.
With various comprehensive fact-sheets about insomnia and sleep problems, and a country-wide database allowing visitors to find a suitable hypnotherapist in their local area, Hypnotherapy Directory could play an important role in finally helping individuals to get that much needed good nights sleep.
Editors Notes
About Hypnotherapy Directory
Hypnotherapy Directory is a service that recognised the need for collating all of the information needed to help individuals find a suitable hypnotherapist in their local area. Whilst other directories may supply contact details, Hypnotherapy Directory goes that extra mile to provide all of the information that those seeking help may require to make the most informed decisions.
Hypnotherapy Directory lists full profiles detailing each hypnotherapist's specialisms, the fees they charge, their practice location, qualifications and background information as to the kind of person they are. The directory also provides a wealth of information about hypnotherapy areas and techniques so visitors can browse this information before choosing a hypnotherapist.
References
[1] Great British Bedtime Report, The Sleep Council. Available: http://www.sleepcouncil.org.uk/2013/03/first-ever-great-british-bedtime-report-launched/
[2] The Science of Sleep, BBC. Available: http://www.bbc.co.uk/science/humanbody/sleep/articles/whatissleep.shtml
[3] Fatigue – Don't drive tired, Think! Available: http://think.direct.gov.uk/fatigue.html
[4] Sleep Disorders Health Centre, WebMD. Available: http://www.webmd.com/sleep-disorders/features/important-sleep-habits
Further Help
The Sleep Council – For further information and advice about how to get a better night's sleep, visit The Sleep Council: http://www.sleepcouncil.org.uk/how-to-sleep/
For further information, interviews, case studies or stats please contact the Hypnotherapy Directory Press Office.
For more information about hypnotherapy Directory please see our About Us page: http://www.hypnotherapy-directory.org.uk/content/about.html