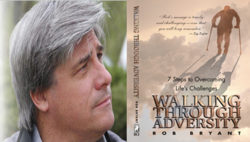 "Your legacy acts as your lighthouse; it shows you the way to shore after every storm in life."
Austin, TX (PRWEB) October 05, 2012
As part of his riveting perspective on the Power of Visualization™ and Live a Legacy, Leave a Legacy™, See2B Talk Radio host Adil Dalal has specially selected four inspirational guests for his show in the month of October. A program that has been described by listeners as "inspirational" and "motivational" and "that will change people's lives", See2B will give audience the opportunity to listen to the stirring stories of individuals who have created and are currently living a legacy of their own.
Rob Bryant will be Dalal's guest on October 5, 2012. An author, speaker and Guinness World Record holder, Bryant has inspired millions through his ability to overcome adversity – a tragic accident which left him a paraplegic. Setting a record for rowing 3,280 miles across the United States earned him accolades from several national leaders and celebrities. Bryant will share the story of the legacy he wants to leave behind.
See2Be will continue its inspirational series in October with the winner of the radio show's recent contest – Sherry Unwala. A mother who lost a young son to suicide, has become a motivation for others by championing the cause of mental illness and suicide prevention awareness, Unwala hopes to solidify not just her own legacy, but her son's as well. She has cited the power of visualization as a source of motivation in her life's journey and has credited the See2B radio show for "strengthening her vision of her legacy and motivating her to pursue her goals".
Having once interviewed Dalal on Goal Achievers radio, renowned author, speaker, and radio host Phil Taylor will have his opportunity to be interviewed on See2B radio on October 19. Taylor claims that 50% of the population is not living the life they love. He will share his empowering insight on setting and achieving goals.
The final show this month will feature John Robinson, an inspirational speaker and author. Born a congenital amputee, Robinson's life and determination has been the subject of a PBS documentary. He has shared his ability to overcome adversity with thousands of individuals, from high school students to employees of Fortune 500 companies.
See2Be host Adil Dalal notes that the guests on his show are a great example of using the Power of Visualization™ to cement one's legacy. "Your legacy acts as your lighthouse; it shows you the way to shore after every storm in life. These inspirational individuals are classic examples of this reality." says Dalal.
More information about the upcoming guests can be found at the See2Be radio website at http://www.pinnacleprocess.com/see2b-radio.html.