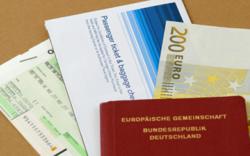 Travelling without insurance is risky as you won't be covered for medical expenses, lost baggage, or if you have to cancel or cut short your holiday, and could end up seriously out of pocket.
(PRWEB UK) 15 March 2013
So the travel insurance experts at Payingtoomuch.com have put together these top tips to help you make sure that you have the correct level of cover when you and your family are travelling.

Always shop around for travel insurance. Don't just buy the travel insurance policy offered by your travel agent or airline. Not only could you save money shopping around, but you may also get a more suitable policy.
Declare any medical conditions that you have now, or have had in the past. Also think about people you are travelling with, or family members who are ill and could affect your travel plans. Always declare your medical conditions and answer questions truthfully. It may not cost as much as you think to be properly covered.
Buying insurance online can often be cheaper than other methods. It is also much easier to compare travel insurance policies online. Payingtoomuch.com lets you compare policies including your medical conditions and could save you time and money.
Remember the cheapest travel insurance policy isn't always the best. Look at the level of cover offered by each policy and make sure it's suitable for your own needs.
Always read the small print. Check the policy is suitable for what you plan to do on your holiday and make sure you know what you need to do if you need to make a claim. For example, make sure you know when you need to contact the travel insurer and what documents you need to get, like, receipts or police reports.
Don't duplicate cover. Check if you have similar cover elsewhere. For example, if you have baggage cover on your house insurance you could exclude it from your travel insurance.
See how much an annual policy will cost. If you make more than one or two trips overseas each year have a look at an annual policy that will cover all the holidays you make in a year. An annual policy covering Europe will be much cheaper than one that covers worldwide travel.
Get an EHIC card (the replacement for the E111) from http://www.ehic.org.uk. It could save you money if you need treatment in the EU as medical excesses may not be charged if you use your EHIC.
If you make a travel insurance claim and it is turned down write to the insurance company and make a formal complaint. If the company doesn't change it's mind, or you are unhappy with how it has handled your complaint, or after 8 weeks, you can complain for free to the Financial Ombudsman Service (http://www.financial-ombudsman.org.uk).
There's more to buying insurance than simply finding the cheapest quote - make sure you spend your money wisely