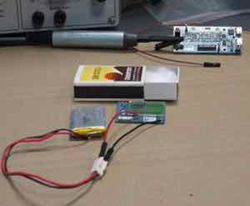 HELIOS server software on Intel Edison Development Platform for embedded computing applications
Hannover, Germany (PRWEB) December 05, 2014
Proving again that its leading file server solution suite runs on any platform – including, Windows, Mac, Unix, and Linux – HELIOS today published the implementation of its server software on the smallest file server ever, the new Intel Edison Development Platform for embedded computing applications.
The size of a matchbox, the Intel Edison system on a chip (SoC) is powered by a common 3.7 V battery. In the coming era of the Internet of Things (IoT), the Intel Edison platform can be used for a variety of embedded computing and networked devices, from stylish wearables to industrial appliances.
As a proof of concept, the HELIOS team has configured and tested the HELIOS software suite, which normally runs on high-end UNIX and Windows servers, on the Intel Edison. The result is an extremely small, fast, and power efficient file server, ready to use via WiFi with Mac, Windows, Web, and mobile clients.
The self-contained Edison system includes an Intel dual-core 500 MHz Atom CPU, 1 GB of RAM, and 4 GB of flash memory storage, with WiFi and Bluetooth support. This proof of concept highlights the versatility of the HELIOS software, and the out-of-the-box thinking of the HELIOS development team. HELIOS has shared its expertise in a step-by-step guide to deploying the HELIOS Intel Edison How-To Guide.
Outstanding features of the HELIOS on Edison matchbox server include:

HELIOS image processing consumes less than 1.2 watts (processing 1 GB of images with PDF rendering, ICC color conversions, scaling and processing of bitmap files e.g.: TIFF, PSD, JPEG2000, JPEG)
HELIOS WebShare portal for file access and image gallery
Mount network volumes on Mac and Windows clients via WiFi
iPad Document Hub to access and sync data via iOS devices
Detailed information including video tutorials about the new HELIOS UB64 server suite can be found on the HELIOS website http://www.helios.de.
HELIOS on Intel Edison information can be found here:
HELIOS Google+ page
YouTube video
HELIOS, Edison and the smallest file server ever
Intel Edison How To Guide
HELIOS Intel Edison How-To Guide
Developers interested in HELIOS solutions are welcome to contact HELIOS.
Smart Ideas for Better Networking
HELIOS UB64 Unbreakable Server Solutions deliver mission critical server solutions to enterprise, government, university, and prepress sites. The HELIOS Universal File Server UB64 software incorporates HELIOS EtherShare, PCShare, WebShare, iPad Document Hub, and IT Monitor Server to provide integrated cross-platform networking for Mac, Windows, Web, and iOS clients, with advanced file and print server services, and easy remote server administration. HELIOS ImageServer, PDF HandShake and PrintPreview bring high efficiency and advanced capabilities to design, prepress and printing operations.
HELIOS products run on powerful and scalable servers including Apple OS X, IBM AIX, Linux, Oracle Solaris, and Windows systems. HELIOS products provide reliable cross-platform support for Mac, Windows, Web and UNIX-based clients.
Distributors sell HELIOS products worldwide to value-added resellers who provide complete networking solutions to customers. HELIOS also works with many strategic partners that incorporate HELIOS server software to provide powerful third-party archive, asset management and workflow solutions.