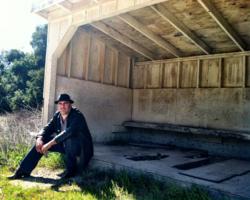 There aren't any radio shows currently broadcasting nationwide that are targeted to immigrant street level youth with such complex themes
Los Angeles, Calif (PRWEB) March 23, 2013
In the third month of its second year broadcasting from KBeach at California State University at Long Beach, the Intelatin cloudcast called The Academic & the Artist, celebrated its shift from internet radio to the FM HD dial with deep dialogues with writers, actors and Dreamers. The show's producer Sergio C. Muñoz said, "We are happy with the social media traction for the cloudcast on Twitter and Facebook but being now on the FM dial will allow us to broaden the appeal of our independent show. There aren't any shows currently broadcasting nationwide that are targeted to immigrant street level youth with such complex themes."
On March 07, The Academic & the Artist dialogued with the actor René Millán on the craft of acting as the lead in Culture Clash's American Night, The Ballad of Juan José. The music for the show was played by Gin Wigmore of New Zealand and the Subsuelo collective from East Los Angeles. The making of One Hundred Years of Solitude by Gabriel García Márquez set to the music of La MiniTK del Miedo from Bogotá was featured on this broadcast.
On March 14, The Academic & the Artist dialogued with nationally recognized Dreamers, Erika Andiola of Arizona and Georgina Hernandez of Kansas, about comprehensive immigration reform and the likelihood of the passage of the federal Dream Act. The music for the show was played by Raul y Mexia from Nacional Records.
On March 21, The Academic & the Artist dialogued with Counselor Marjorie Heins on academic freedom for her book, Priests of our Democracy: The Supreme Court, Academic Freedom, and the Anti-Communist Purge. The music for the show was played by La Santa Cecilia from their forthcoming album called 30 Días.
On March 27, Intelatin will produce the fourth-in-series for Racecraft: The Soul of Inequality in American Life written by Barbara Fields and Karen Fields. The Academic & the Artist will dialogue with Dr. Karen Fields and Dr. Tiffany Ruby Patterson. The music for the show will be played by Cassandra Wilson.
The radio broadcast records from the University Student Union at the 21st largest university in the nation on Thursdays at 10am PST. The show is distributed live on 88.1 FM HD3 and KBeach.org. Once cloudcasted, it is distributed via iTunes, Podbean, Facebook, Twitter and Google +. It is co-hosted by Dr. José Moreno, chair of Chicano and Latino Studies at CSULB and author of The Elusive Quest for Equality by the Harvard Educational Review.
About Intelatin: Sergio C. Muñoz at Intelatin is a Mexican artist and impact investor. His writings are published locally, nationally and internationally and he hosts a community radio program called The Academic & the Artist. The archive of his work is available at Intelatin.blogspot.com. For more information, please contact radio(at)intelatin(dot)com.