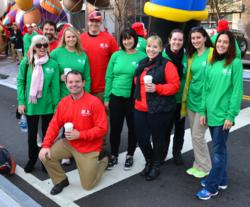 Seeing children facing incredible health challenges puts many things in perspective, and also reinforces why our law firm volunteers our time to worthy causes
Atlanta, GA (PRWEB) December 07, 2012
Attorneys, staff, and family members from law firm Hill, Kertscher & Wharton, LLP recently donated their time at the 32nd Annual Christmas Parade held in downtown Atlanta. The event kicks off the holiday season for many local families and organizations and, more importantly, benefits Children's Healthcare of Atlanta, one of the nation's top pediatric hospitals.
HKW's volunteers met early on Saturday morning to work as ushers in the bleacher area at the parade's starting point. In addition, two of the firm's partners, Scott A. Wharton and Douglas R. Kertscher, served in the parade's Clown Corps, a huge fan favorite. Prior to the parade start, the Clown Corps visited with patients from CHOA, something that brought powerful perspective about the event's purpose.
"Seeing children facing incredible health challenges puts many things in perspective, and also reinforces why our law firm volunteers our time to worthy causes," said Kertscher. "We are grateful to Children's Healthcare of Atlanta for the opportunity to play a small role in a very big and important effort."
By all accounts, this year's parade was a huge success, with temperatures in the upper-40's and sunshine warming the estimated 300,000 spectators. Recognized as the south's largest Christmas parade, the Atlanta event entertained attendees with hundreds of bands, dancers, floats, massive balloons, and confetti.
Hill, Kertscher & Wharton, LLP is busy planning its next charitable event. "We believe we have an obligation to give back to the communities in which we live and do business," said Wharton. "And it's also fun to take part in events that bring our firm and their families together outside the office."
HKW has made a $5,000 donation to Children's Healthcare of Atlanta in support of the hospital's research, treatment programs, and equipment.
About Hill, Kertscher & Wharton, LLP: Nationally recognized for its work on behalf of businesses and individuals, HKW provides top tier legal representation in business litigation, intellectual property, corporate law, and employment matters. The firm is also considered a pioneer in outsourced corporate counsel services and flexible fee arrangements for businesses that seek a more cost effective way to handle their legal matters. Recently, six of the firm's intellectual property attorneys and business lawyers were recognized by Georgia Trend Magazine in their special Legal Elite edition.