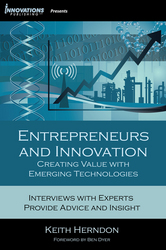 With either one, you can have great pedigree and bring them up with loving care with discipline, but until the race is run and they are tested, you don't know if you have a winner or not
Atlanta (Vocus) October 31, 2008
''Protecting Intellectual Property: Insights into the Legal Process'' is the title of a chapter in a new book featuring Morris, Manning & Martin, LLP Partner John Harris. The volume, titled Entrepreneurs and Innovation: Creating Value with Emerging Technologies, includes interviews with a dozen successful entrepreneurs and service providers.
Mr. Harris explains the basic of patents, trademarks, copyrights and "know how" in an entertaining way, and explains why it's so important for entrepreneurs to protect their intellectual property. He also walks readers through the legal process and gives advice on finding the best IP lawyer.
One of Mr. Harris' favorite metaphors compares patents to race horses. "With either one, you can have great pedigree and bring them up with loving care with discipline, but until the race is run and they are tested, you don't know if you have a winner or not," he says.
Atlanta-based consultant and former journalist Keith Herndon conducted the interviews and edited the book.
"John's inimitable style and energy come through in this book, and give technology entrepreneurs a road map to creating significant value," says Mr. Herndon.
As a whole, the book reveals the characteristics of entrepreneurial companies that succeed, and gives readers the insights and practical advice they need to turn innovative ideas into reality.
"Successful innovators share many of the same traits; they aggressively protect their intellectual property, they go after market segments that represent huge potential customers and they approach their innovations with extreme passion," Mr. Herndon adds.
Other experts interviewed include David Lidsky of Fast Company magazine, Stephen Fleming from Georgia Tech, Mitch Mumma of Intersouth Partners, Tony Stelliga of Quellan, Steven Stice Ph.D., from both University of Georgia and Aruna Biomedical, Jax Zachariah of Cyspan, Vibha Rustagi of itaas, Dolan Falconer of ScanTech Holdings, Tripp Rackley of Firethorn, John Bacon from IP2Biz and Mitch Mandich of Range Fuels. Ben Dyer, president of Innovations Publishing and the founder of Peachtree Software, wrote the foreword.
The book, published by Atlanta-based Innovations Publishing, LLC, can be purchased online at http://www.innovationspublishing.com/books.asp or through Amazon.com.
About Innovations Publishing, LLC
Innovations Publishing, led by investor and entrepreneur Ben Dyer, was established in 2002 to promote and educate emerging growth businesses in the Southeast. Its flagship product is Southeast Innovations, a subscriber-supported weekly e-newsletter that reports news on more than 700 privately-held companies based in the region. The company also has a partnership with the Georgia State University Robinson College of Business to operate the RCB Eagles program, which recognizes high-performing emerging growth companies in the Southeast. For more information, please visit http://www.innovationspublishing.com .
About Morris, Manning & Martin, LLP
Morris, Manning & Martin, LLP, (http://www.mmmlaw.com ) enjoys national prominence for its corporate finance, securities, mergers and acquisitions, litigation, technology, intellectual property, real estate and real estate capital markets, environmental, insurance and healthcare practices. The firm has offices in Atlanta, Raleigh-Durham, Savannah and Washington, D.C.
Media Contact: Terri Thornton, Thornton Communications, (404) 932-4347 terri@territhornton.com
###